Classic Checkout Final Phase Out Date
Earlier this year we informed broadcasters leveraging the classic checkout that it will be phased out and its support discontinued on the Cleeng platform. We previously shared an early warning memo in June 2021 about the coming changes to privacy policy of global browsers (third-party cookies phase out) and its impact on our classic checkout solution. Following the end of service life period that started on April 1st, 2023, please be advised that classic checkout will now be phased out as of August 31st, 2023.
To keep your platform active and accept payments correctly you need to switch the checkout implementation.
How to switch from the classic checkout?
Replace the current checkout implementation with MediaStoreSDK components or use API driven integration. You can find more information on both options here.
To find more information and guidance on migration, please refer to the Upgrading to MediaStore SDK article.
If you have any questions or concerns regarding the classic checkout phase out, please contact us via the Broadcaster Success Specialists Team by submitting a ticket.
Improvements
Precise Coupon Discount Values
Discount rate definition has been changed to allow you to create precise value discounts, eg. a $5-off promotion. 
This has been made possible by the addition of 2 decimal places to the discount percentage option.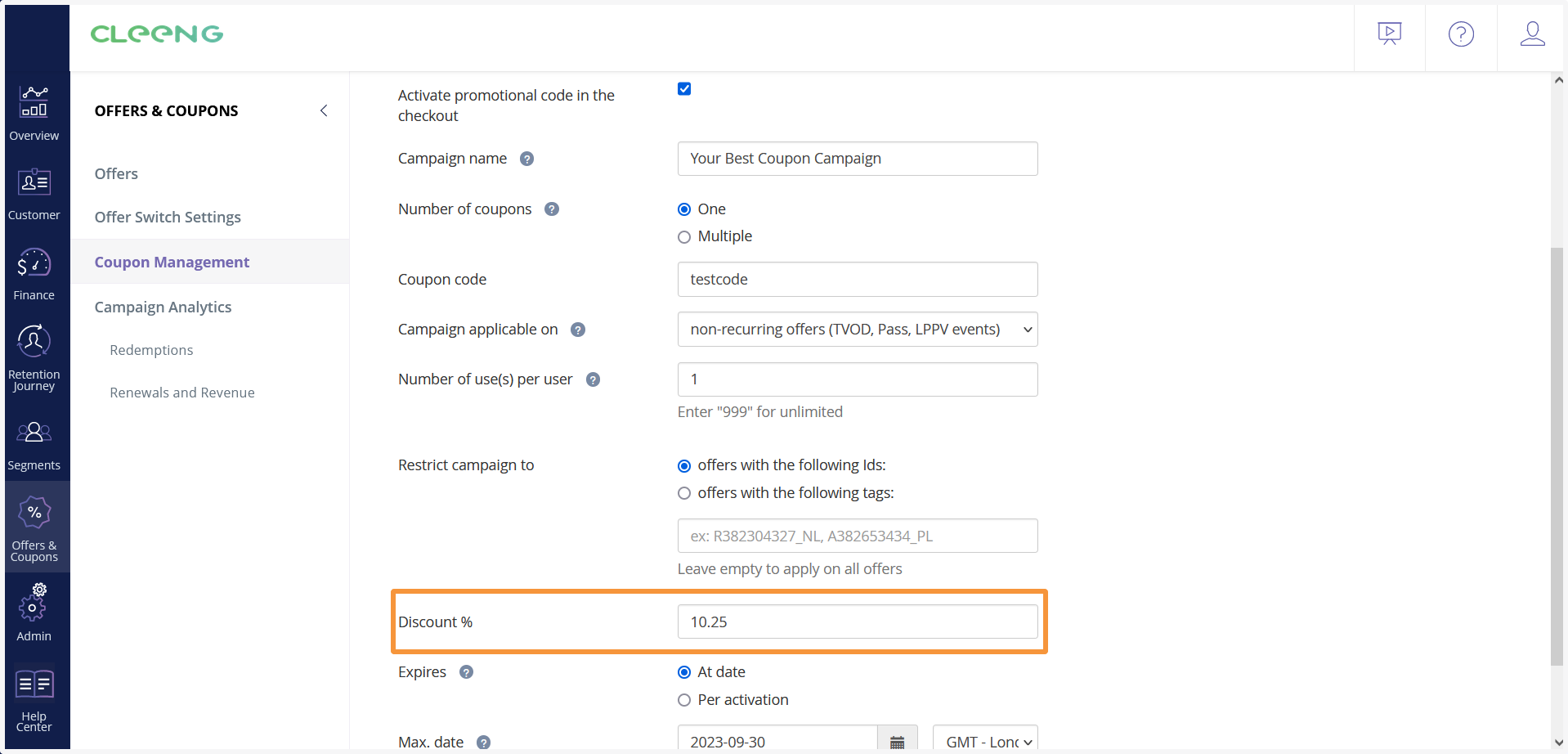 Improved Tab Names in Cleeng Dashboard
As the next step in the series of Cleeng Dashboard improvements, we have updated tab names by adding "Cleeng" to each page title.
So for example the "Offers & Coupons" tab will now be called "Offers & Coupons - Cleeng".
We hope this change will further improve usability of our Broadcaster Dashboard and overall user experience.

Other Changes
Legal Notes in MediaStore SDK Components
The layout and functionality of legal notes connected with purchase has changed to improve usability.
Respective legal notes are now displayed for each payment method after a given payment method name (you can see an example for a credit card payment below). 
A checkbox has been added next to legal notes. A customer needs to tick the checkbox to explicitly accept the conditions prior to purchase.
MediaStore SDK Components Changes
For the full list of changes in the latest release of MediaStore SDK Components, see Release 5.2.0  What's changed
Issues Resolved
Cancellation survey missing in web cancellation flow - the issue has been fixed in MediaStore SDK Components (version 5.2.0).
->>><<<-
Click here to subscribe to our release notes emails and we will send them over to your inbox.