We offer you a wide choice of 15 currencies: 
USD - US Dollar
EUR - Euro
AUD - Australian Dollar 
CAD - Canadian Dollar 
DKK - Danish Krone 
GBP - british Pound
NOK - Norwegian Krone 
NZD - New Zealand Dollar 
SEK - Swedish Krona
TRY - Turkish Lira 
XOF - CFA Franc 
ZAR - South African Rand 
NGN - Nigerian Naira
KES - Kenyan Shilling 
GHS - Ghanaian Cedi
How to choose a local currency when creating a live pay-per-view event or a video on-demand?
By default the choice between currencies is available for both – Live and On-demand videos! If you wish to develop your own customized offer setup, we also enabled them through our API.
We give you two options:
1. When setting up an account with us, you are able to choose your default currency. In this currency you sell and also receive the payout.
NOTE:  ZAR, XOF, NGN, KES, and GHS are not available as a default currency for your Publisher's account
2. If you wish to offer a particular video or event in any other currency than your default one, you can do it while creating an offer from your Cleeng Publisher Dashboard.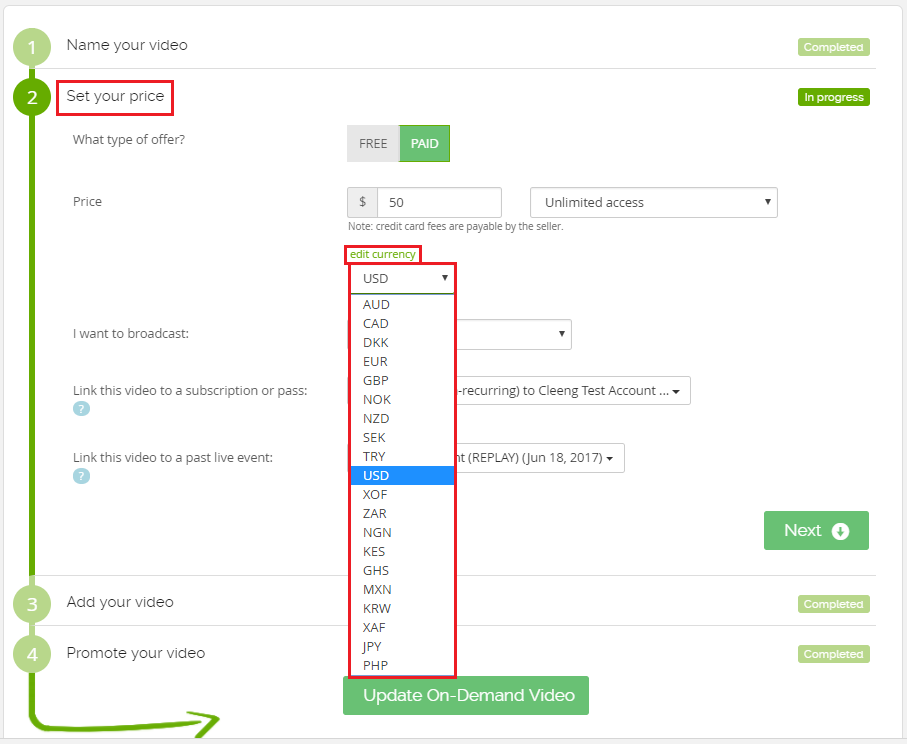 For further assistance, feel free to contact our friendly Cleeng Support Team as they will be happy to assist you.