Supported Currencies and Payment Methods
When selling your premium content using Cleeng Merchant your viewers can now pay in more than 180 accepted payment methods in 22 currencies. Among these methods are the major credit cards, Paypal, in-app payments, the credit wallet, Telcos and a number of local payment methods (e.g Maestro/Solo in the UK, Ideal in the Netherlands, ELV in Germany etc.). Cleeng has developed web and email templates that display the right currency to the right user. By using an auto-detect feature Cleeng can convert the price to customers preferred currency.  
Existing Currencies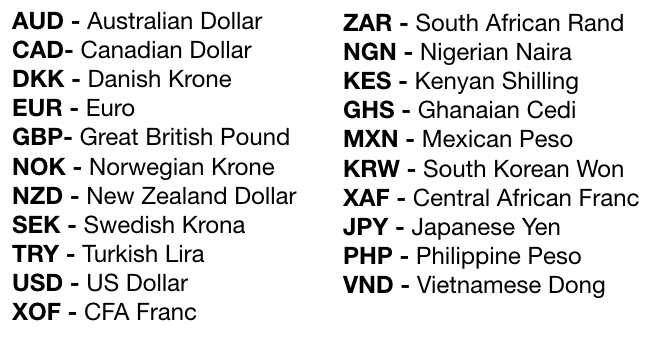 How to choose a local currency
When setting your default currency it is best to choose the currency where you are locally based, or have the the biggest viewership. See below for tax information. If you wish to develop your own customized offer setup, we also enabled them through our API. Just click the Developers API link for more information. 
You have two (2) options:
1. When setting up an account with Cleeng, you are able to choose your default currency. In this currency you sell and also receive the payout.
NOTE:  ZAR, XOF, NGN, KES, and GHS are not available as a default currency for your Broadcaster's account, please contact our friendly Customer Success team for assistance.
2. If you wish to offer a particular video or event in any other currency than your default one, you can do it while creating an offer from your Cleeng Broadcaster Dashboard.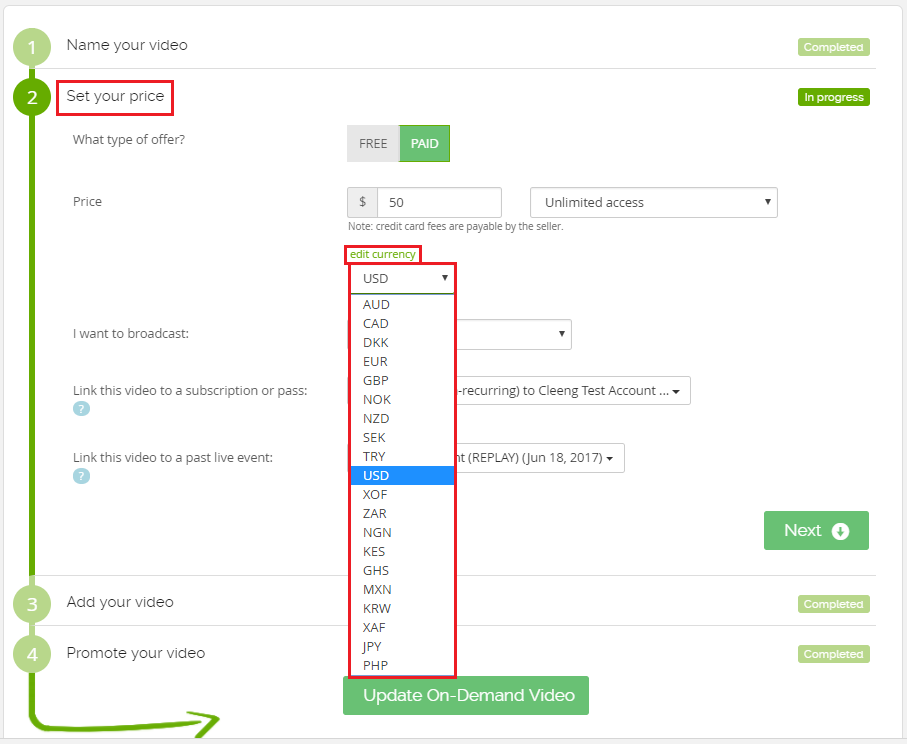 As we expand our services and penetrate new markets this list will continue grow so keep an eye on it! If you are looking to launch your service in an unsupported language or currency, please contact us for information on how you can get it added. 
Viewer Payment Methods
If you are using Cleeng Merchant, all actual transactions are processed directly through the Cleeng server using SSL encryption; our solution is fully PCI DSS compliant ensuring safe and secure payments. Also, we partnered with Adyen B.V. and other leading payment providers to enable and process these methods and currencies.
Payment methods available:
Major credit cards

PayPal

Credit wallet

In-app payments

Variety of local methods

Telco integrations
Cleeng also integrates local payment providers and Telcos based on client requests to activate new methods. Please contact us to gain more information or apply for local payment methods.
International Ticket Pricing
International Ticket Pricing refers to the cost of a ticket/subscription that the viewer will see with the automatic calculation of VAT. Please see below for a few examples of how it works.
Tax
1. Broadcaster is based in the EU - VAT is automatically calculated to the country in which the broadcaster is based.
To illustrate: 
Broadcaster Location: France (20% VAT)
Broadcaster sets offer price to 10 EUR
Broadcaster Net Earnings: (10/1.2) = 8.33 (This is the price on which subsequent VATs will be calculated in other EU countries)
VAT France: 1.77
Viewer Location: Poland (23% VAT)
Broadcaster Net Earnings: 8.33
VAT Poland: 1.92
Viewer pays: 10.25
Viewer Location: France (20% VAT)
Broadcaster Net Earnings: 8.33
VAT France: 1.77
Viewer pays: 10
2. If the Broadcaster is based outside the EU - VAT is not set, and margin is at full offer price.
To illustrate: 
Broadcaster Location: USA (0% VAT)
Broadcaster sets offer price to 10 EUR
Broadcaster Net Earnings: 10 (This is the price on which subsequent VATs will be calculated in other EU countries)
VAT: N/A
Viewer Location: Poland (23% VAT)
Broadcaster Net Earnings: 10
VAT Poland: 2.30
Viewer pays: 12.30
Viewer Location: USA (0% VAT)
Broadcaster Net Earnings: 10
VAT USA: 0
Viewer pays: 10