Geo-Targeting
Geo-Targeting are a standard yet powerful feature that allows you to limit usage to specific regions. This is an important and sought-after feature especially for broadcasters who only hold rights to content in particular locations. Broadcasters can decide to restrict access to their premium content in specific countries. For example, if you want your Live PPV event or Subscription VOD's to be available only to US-based viewers, you can use the Geo restriction feature to set these parameters. 
How to set it up
If you are using the Cleeng API to set up your offers, then please follow this link to our developers page that further explains how to geo-restrict your content. If you're using the Cleeng Application to set up your offers, then please follow the steps below: 
Go to 'My Offers' > then choose either Live event/ Video on demand > create a new offer
Completed the necessary fields in step 1
In Step 2 you will set your price and choose where you want to broadcast to by selecting either 'Worldwide' or 'In a specific Country'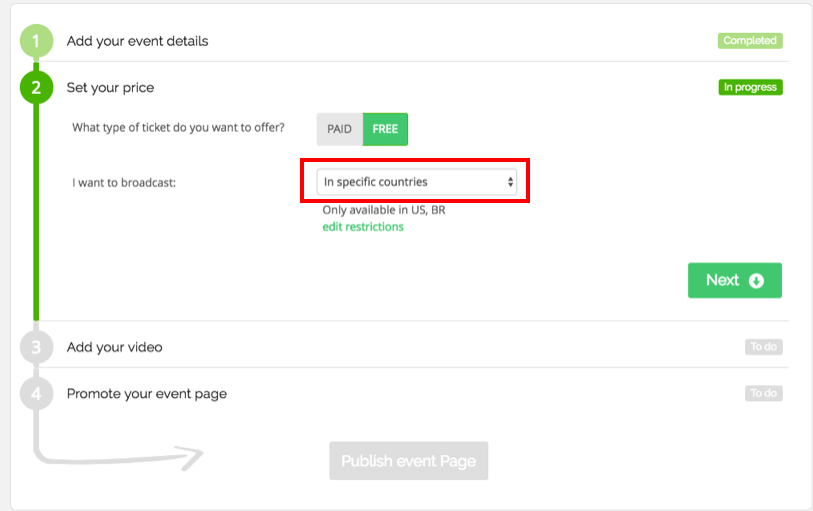 After choosing 'In specific countries', you'll be presented with a map on which you can define the countries where the broadcast will be available. The image below, dictates that this particular offer will only be available in the USA and Brazil
Then click Save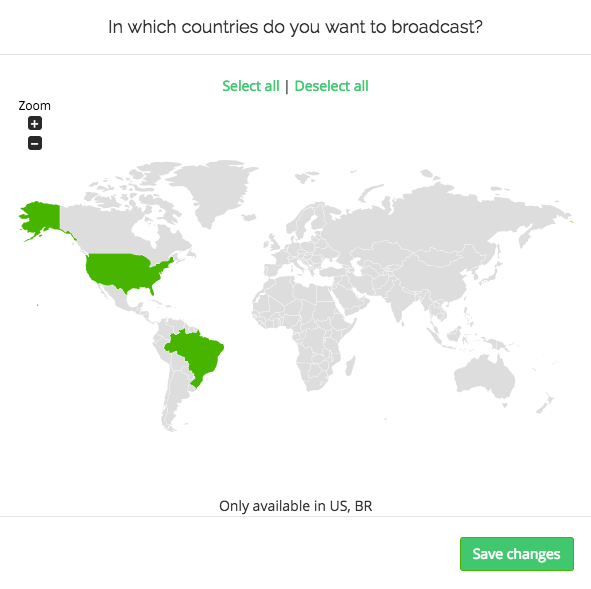 Important to note, that customers from our outside of the specified countries will be able to view the page where the content is being distributed, but will not be able to purchase or access it. They will receive a message that reads, "This video is not available in your current location".