Cleeng handles customer support inquiries directly, always trying to meet the best interests of both the viewer and the broadcaster.
Cleeng automatically refunds requests, based on the following reasons:
Financial:
When a Viewer made a double/multiple purchases using the same registration/login data.
Technical:
When the event was cancelled by the Broadcaster.
When more than 80% of the show had streaming issues (no sound, or poor sound & video quality).
When a video was missing as it wasn't offered by the Broadcaster.
Content related:
The content was misleading – the description didn't relate to actual content of the video.
In other cases, when Cleeng investigation doesn't bring a clear justification of a refund, we will contact the Broadcaster, seeking for their final decision in a given case.
Please note that this service is not available for Plug & Go Broadcaster – all refunds from their Viewers will be proceeded without further consultation.
Cleeng will deny a refund based on the following reasons: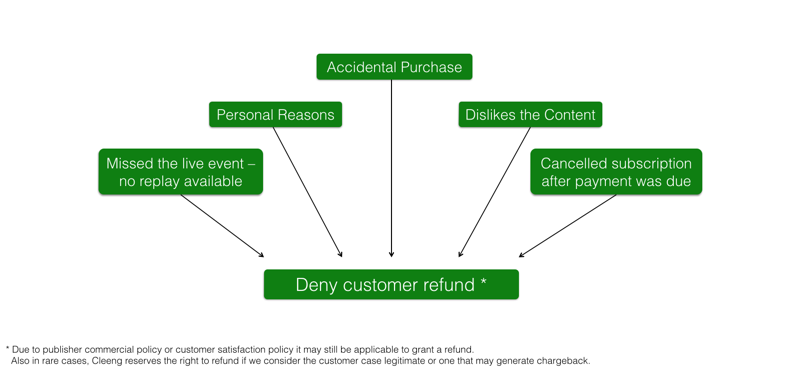 The refund policy is a part of Cleeng's Terms and Conditions.
For further assistance, feel free to contact our friendly Cleeng Support Team as they will be happy to assist you.