Choosing your Currency
When registering your account through the Cleeng website you will be asked to choose your default currency shown in the image below. If you choose EUR for example, it will be your default currency and all your offers set up in EUR. You will also wire your payout in EUR.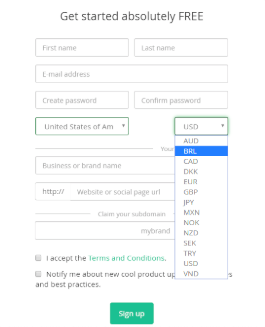 Changing your default Currency
You can change the default currency, but only one condition: if you haven't yet sold any offers. If you have already started selling your premium content, you will need to contact our friendly support team who can assist with the change. Please note this may take a few days or slightly longer depending on the currency.