(2 min read)
When using Cleeng Core, it is very easy to find a single viewers account and their total transaction history as well as other important information such as; payment methods, coupons used and what emails have been automatically sent by the platform.
1.
In the Cleeng Dashboard, click
Reporting > Customer Transaction
.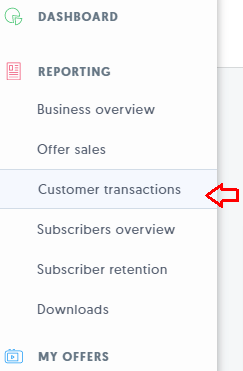 • On this page you can search the viewer via Transaction ID or Customer Email address.

• You can filter the viewer transaction on a different views like (Today, Yesterday, This week, etc.) Note: Check the date setting to ensure that you are on the right period before clicking Apply.

• Once you are on the viewer transactions page, click on the drop-down on the right hand side.

Where to find transaction details