Locating Viewer Account Transaction
When using Merchant it is very easy to find a single viewers account and their total transaction history as well as other important information such as payment methods, coupons used and also what emails have been automatically sent by the platform.
Locating a viewer account
1.
On the Cleeng Dashboard, click the 
'Transactions'
tab under the '
Reporting' 
Section.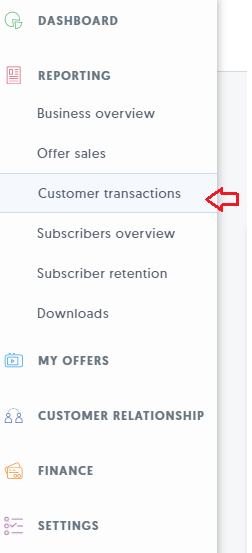 • On this page you can search the viewer via Transaction ID or Customer Email address.

 • You can filter the viewer transaction on a different views like (Today, Yesterday, This week, etc.) 
Note: Check the date setting to ensure that you are on the right period before clicking Apply.

 • Once you are on the viewer transactions page, click on the drop-down on the right hand side.

 • From there you will see all the details of the transactions.