Supported devices
With the increase in devices (Mac, PC, Phone, Tablets, eReaders) and technologies (HTML, Flash, Apps) your development costs just keep getting higher. Meanwhile, viewers are looking for simple and straightforward solution which delivers a good experience, anywhere they go. 
Cleeng satisfies both, viewers and broadcasters.
Cleeng works in any browser, on any platform and on all web-enabled devices.
Thanks to its platform agnostic capability, Cleeng helps you make substantial savings: on infrastructure and human resources, as you will use the same technology to protect content designed for an IPad, an Android smartphone, a PC or for the web.
Viewers will be able to access the content they purchased from their computer, smartphone, TV or tablet, anywhere they go.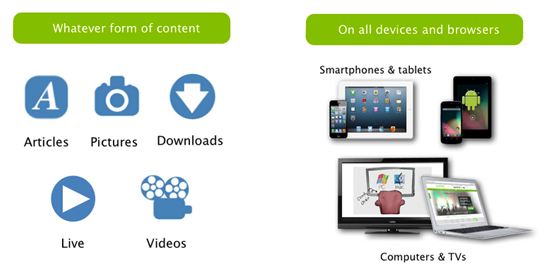 For further assistance, feel free to contact our friendly Cleeng Support Team as they will be happy to assist you.