At Cleeng Subscriber Retention Management is our core focus. Although we are aware some customers want or need to cancel their subscriptions it is also important to know that you have some simple retention tools available to you such as; creating a discount coupon for an additional period and providing an access extension if needed.
Cancelling a Subscription
However, if a viewer is requesting to have their subscription canceled you can simply action this from your dashboard. When cancelling a viewer's subscription without a refund, the viewer will still have access for the remainder of their paid period but will not be charged for the next installment. To do this, please see the steps below:
Log in to your dashboard and select the 'Accounts' tab on the left-hand side under 'Customer Relationship'.

Enter the viewer's email address in to the search bar and you will see the details and payment history appear.

Click the viewer's name and you will see their subscription details. You will also be able to see their next scheduled payment as well as a stop sign at the end of the payment detail. For Example:

Click on the red stop sign, a message will appear asking you to confirm the cancellation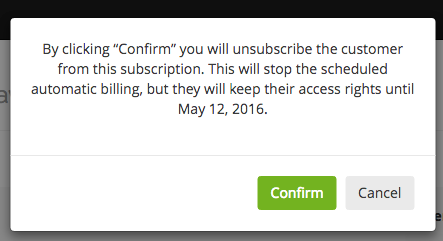 If you wish to cancel the subscription please select "confirm".