Cleeng Core provides an out-of-the-box advanced set of rules that notify your subscribers of a range of updates. Below, you will find an overview of the email templates that are triggered towards subscribers who purchase a recurring offer.
You can change the color and branding of these notifications via Branding on your Broadcaster Dashboard under the Admin & Tools tab (see further in this article for more information).
All notification emails are translated and will adapt to the language settings of your viewer (see Supported Languages).
You will find the following parameters in those templates:
Broadcaster Name: Company or Brand name that you entered during sign-up. You can edit this in your dashboard in the Company Profile section.
Period: Period of the offer that the viewer bought, like "monthly" for example.
Expiration Date: The next billing date, or the date that the access expires for that given viewer.
My Account URL: Link to the place where the viewer can manage their account. Either on your Cleeng account or on your own domain when you use the Functions of Cleeng's embeddable My Account widget.
Email triggers
The following triggers are defined here:
Initial subscription transaction receipt: The viewer has signed-up on your website for a specific recurring offer.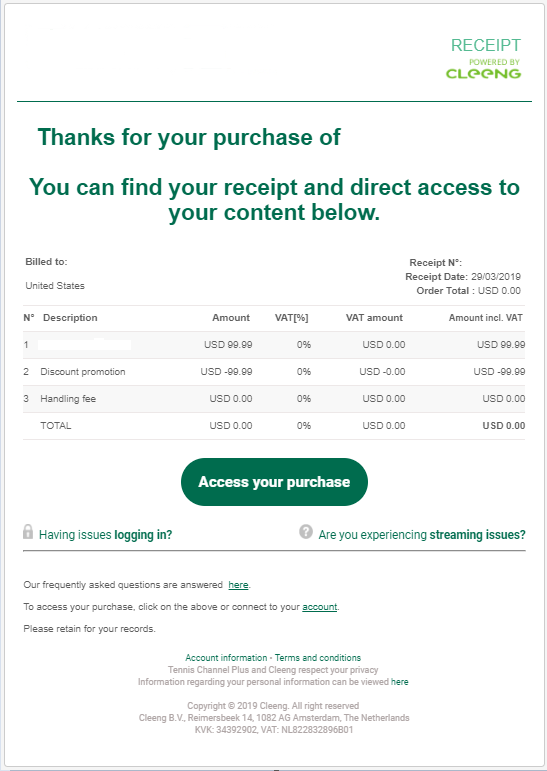 When a viewer stops their subscription: The viewer has decided to stop their subscription in the 'My Account' widget.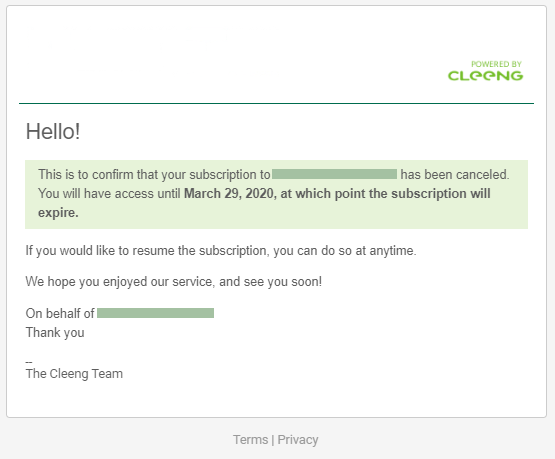 When the viewer re-activates their subscription: The viewer has decided to continue their subscription once again through the 'My Account' widget.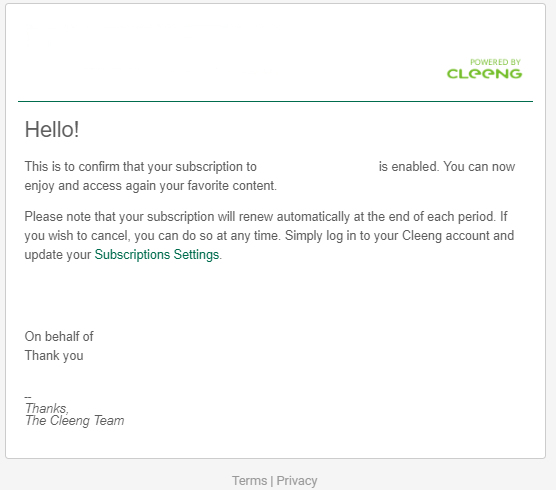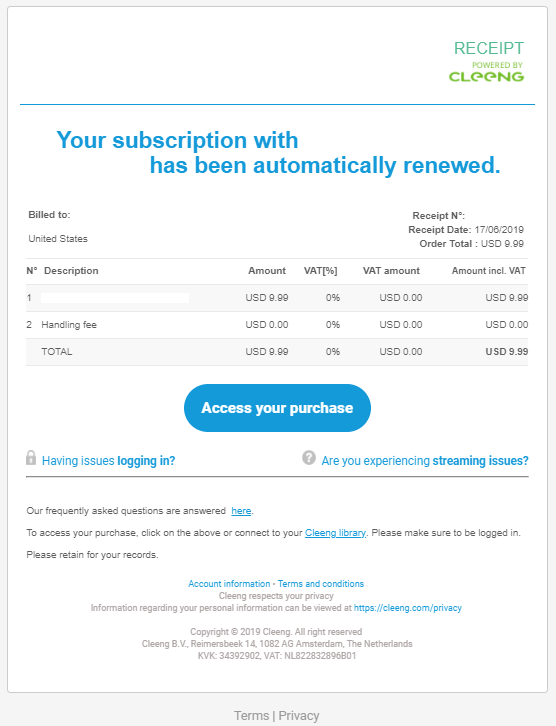 When a credit card expires the following month.
When payment authorization has failed: Cleeng automatically tries multiple times to trigger the actual payment. This message is only sent after the first failed trial.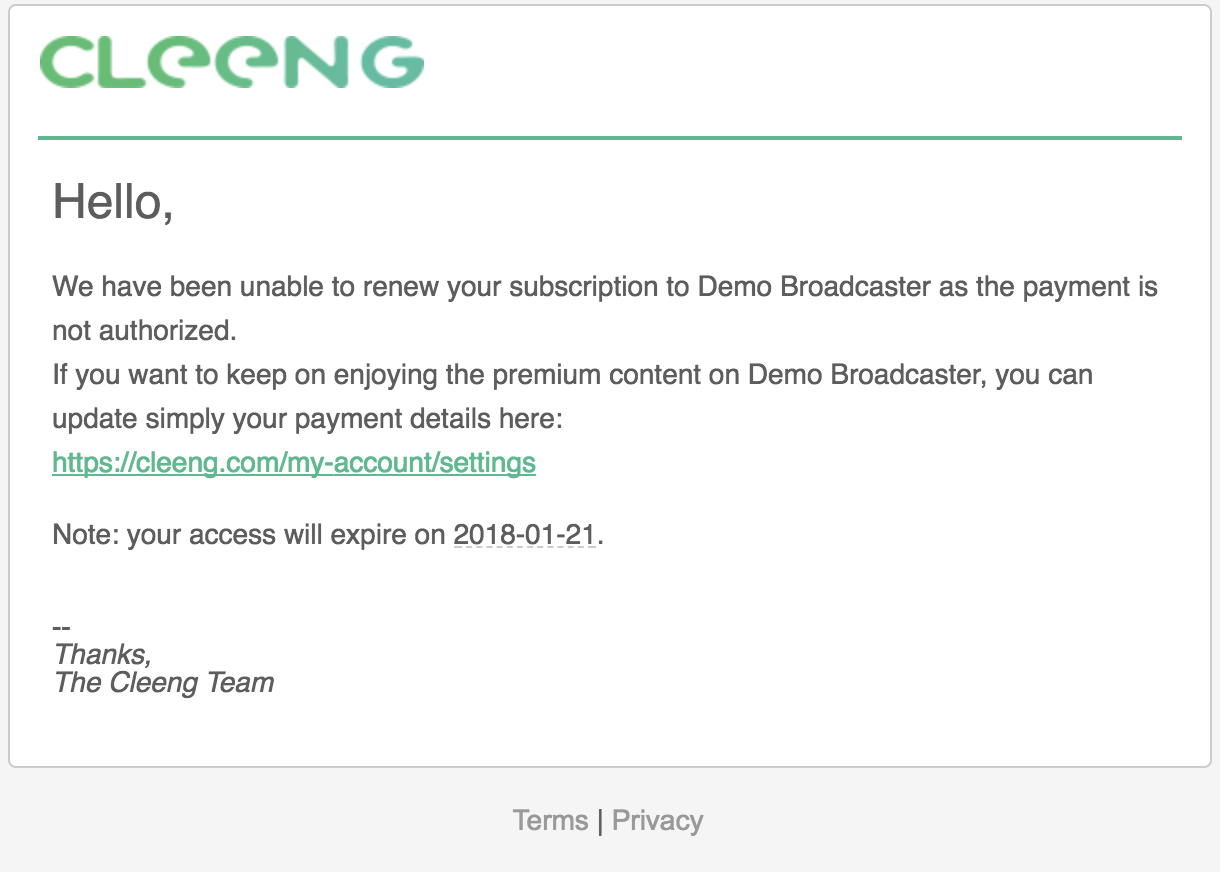 When a subscription with an initial term of one year is due for renewal: A

renewal reminder email is sent 30 days before the renewal payment in the localizations where such a requirement is applicable. This is a requirement by Automatic Renewal Law (starting as of 1st July 2022). For more information, see

Cleeng and the CCPA.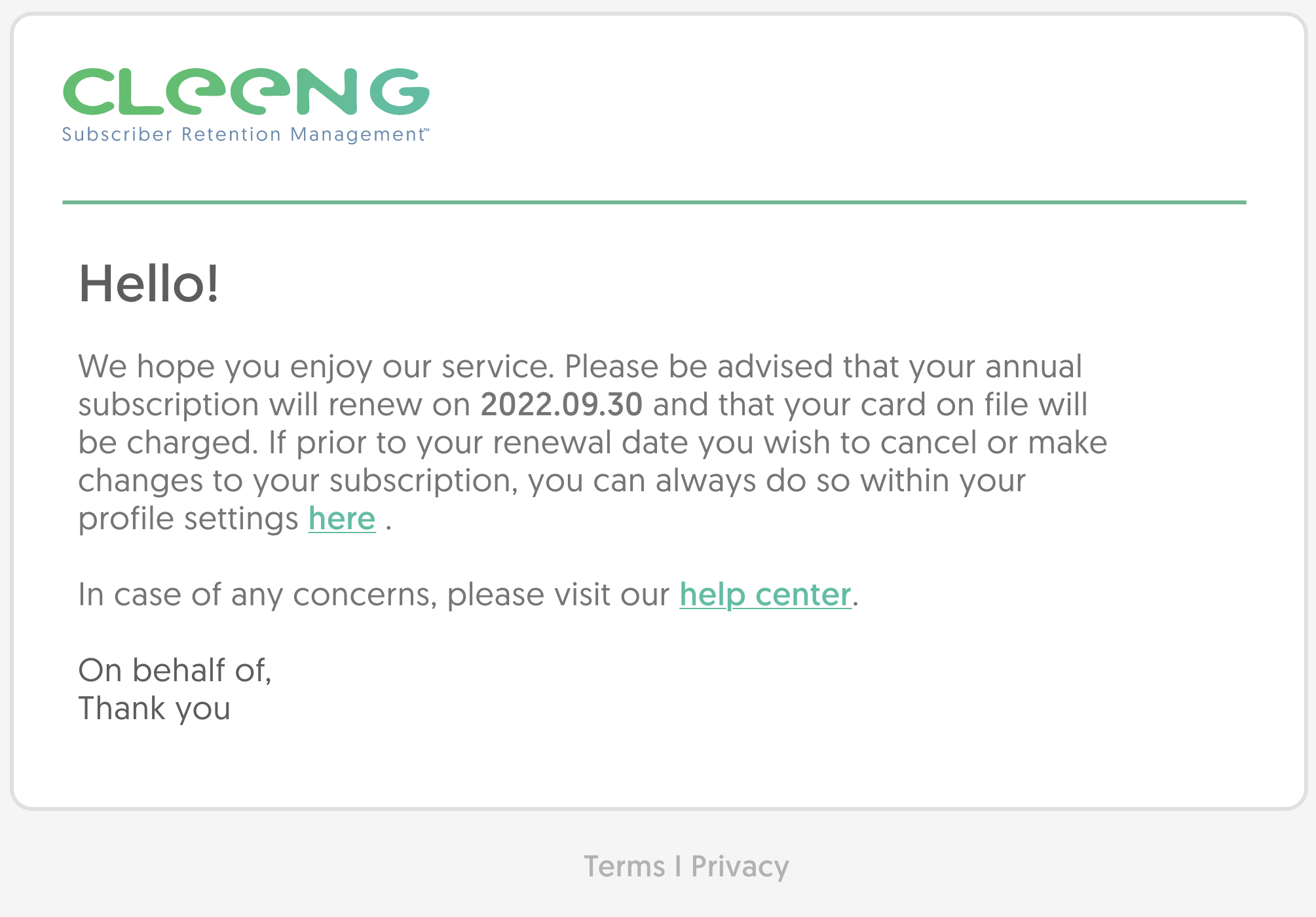 When access has expired
This can be due to many different reasons (see the following reasons below):
Due to failing payment: Even after multiple automatic billing.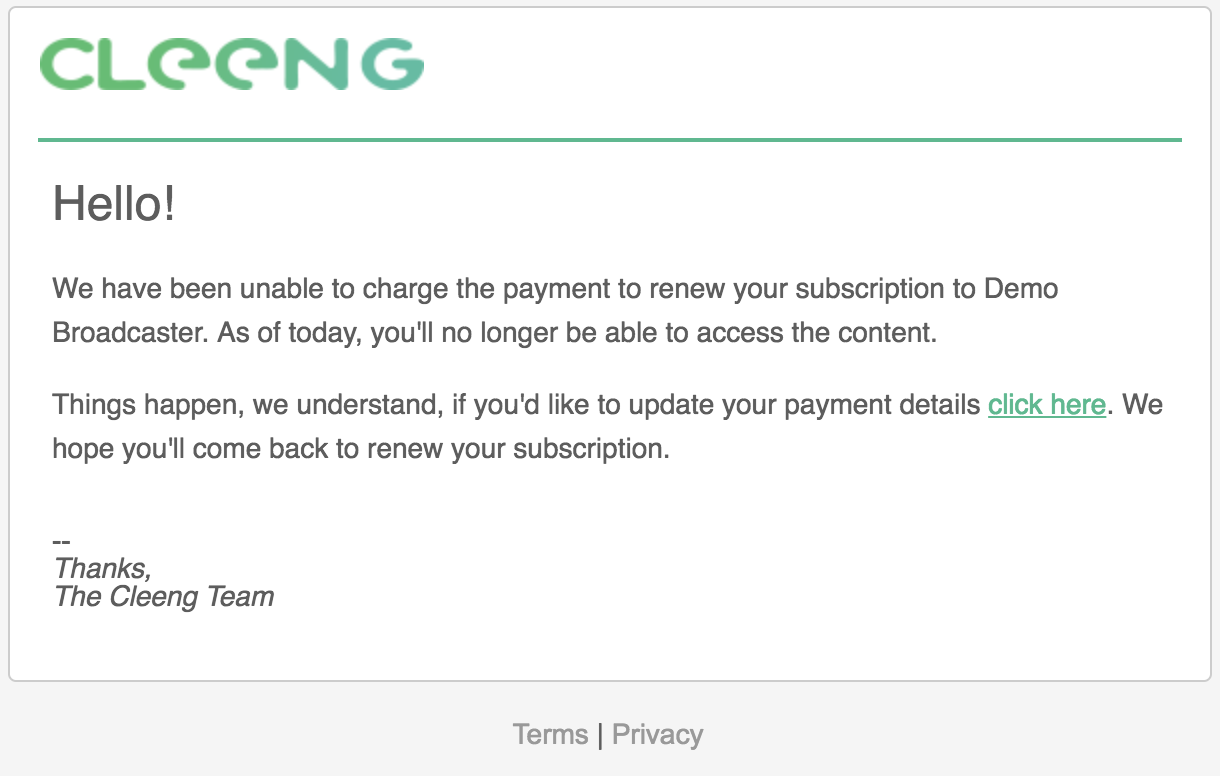 Due to the Broadcaster's decision to discontinue the subscription offer: Basically when you decide to delete the offer.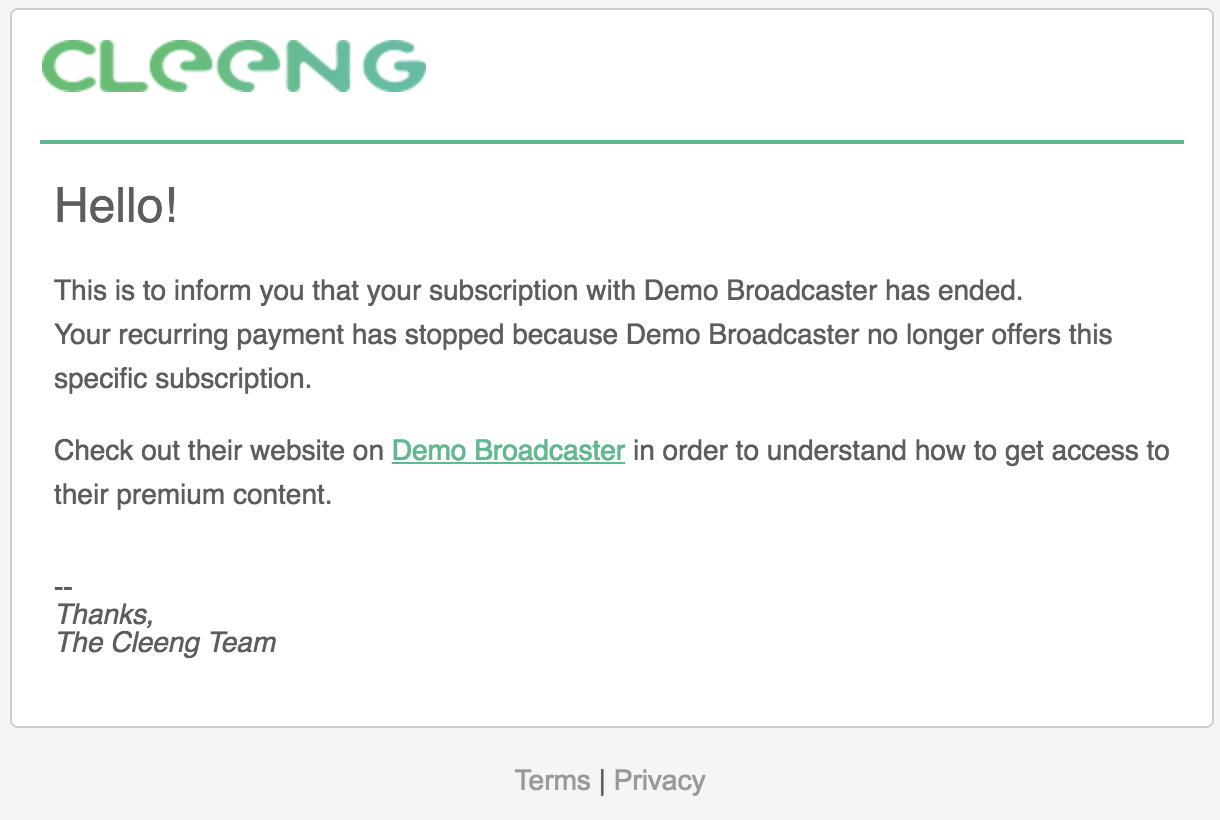 Note: Cleeng also has the capability of sending a welcome email to all those who have created a user account.
Due to the viewer stopping the subscription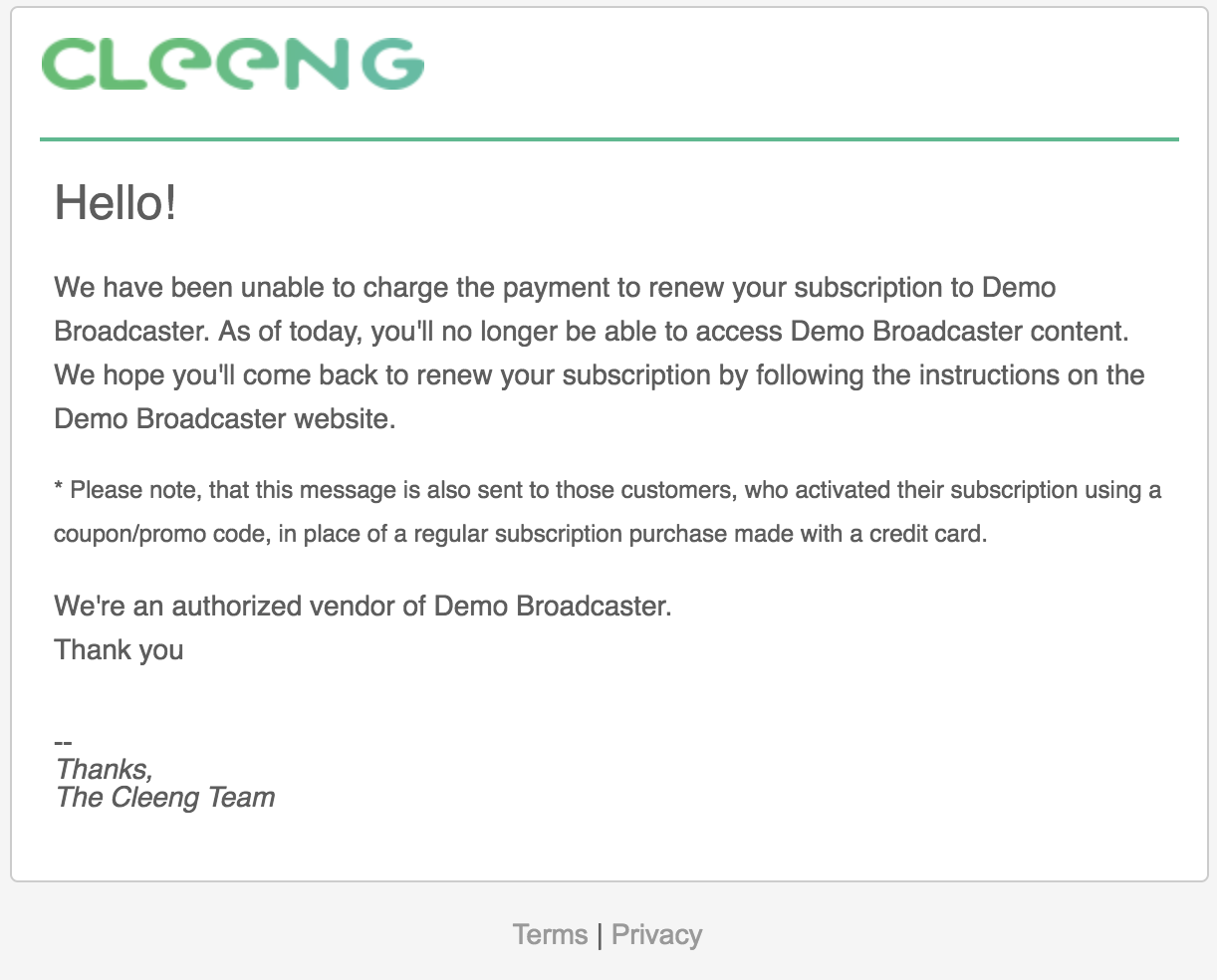 Customizing your checkout and email branding
Cleeng recommends using our customizable MediaStore SDK to integrate your checkout.
When using Cleeng's Live hosted pages, you can easily style the page, checkout, and automated email templates (receipts, reminders, warnings) in line with your branding.
How to brand your Cleeng Classic Checkout
Upload your logo and an exciting banner, and define the color scheme by following these simple steps:
1. Log in to your Cleeng account and go to the 'Admin & Tools' section. Then click on 'Branding' tab.
2. Add a header banner to the top of the checkout screen, and set the background color.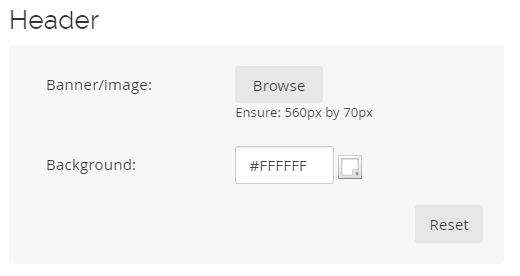 3. What should be the default color of all links & buttons? You can decide here.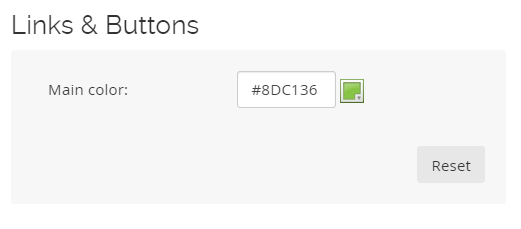 Note: you cannot edit the Single Sign On buttons (Facebook, Google, Yahoo).
Here's an example of a checkout styling: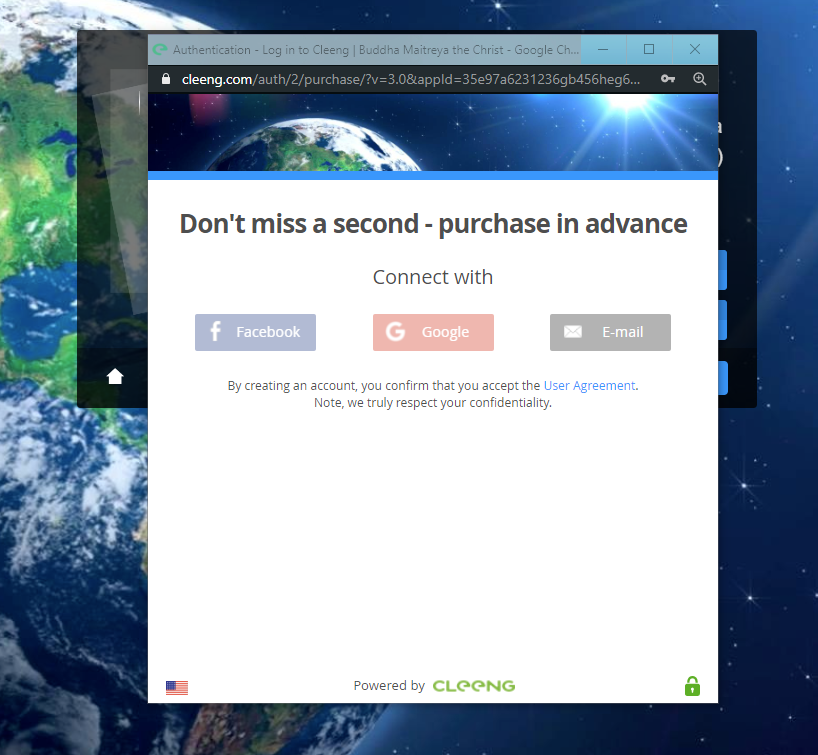 How to style the email header
Go to Admin & Tools -> Branding and select the Email header tab
1. Upload your logo
Note: Your logo should be 100-300 px wide and max. 70 px tall.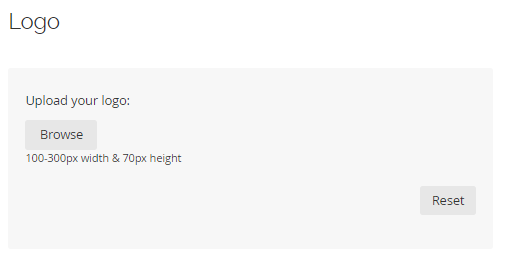 Here's how it will look:
Opting out of email notifications
If you don't want your users to be sent some or all of the email notifications described above, contact our BSS team who will help you adjust the setup to your expectations.
Advanced custom emails and custom notifications
You can subscribe to selected webhook topics in Cleeng and use webhooks as triggers for sending more customized emails and custom notifications, such as SMS, push notifications, etc. You can use them to inform your customers about payment-related issues, reflect changes in a subscription status when you're using your own entitlement engine outside of Cleeng, or even to design marketing campaigns, for example highly effective win-back campaigns.
Read more about using webhooks to send custom emails and notifications.