Associating tags in the Dashboard
Tagging your videos is commonly used when you have a diverse range of content, for example, if you have a range of sporting, news and TV shows on demand (VOD). To successfully use tags you will need to set up your VODs through the Cleeng API dashboard. Read on below to see how to set up Tags when using Cleeng Core. 
Important: You should not use tags if your integration is not based on the Cleeng API.
By default, all subscriptions are created with the tag '(all)'. This means that all the VOD's in your account will automatically be linked to the pass or subscription you have created.
See screenshot below of a subscription creation in your dashboard: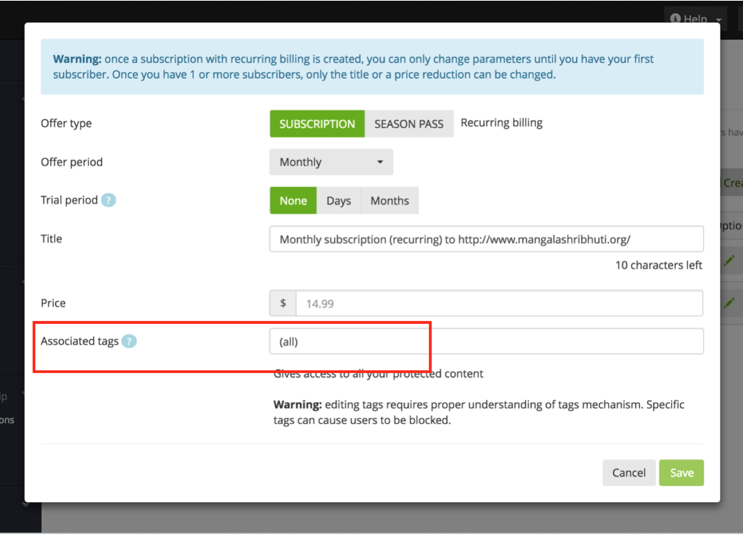 When using the Cleeng API, you can attach specific tags to each VOD Offer, like the one depicted below:

For each "sporting" video you would set the same tag. Once the video is uploaded you can then add the new tag that will be linked to those videos.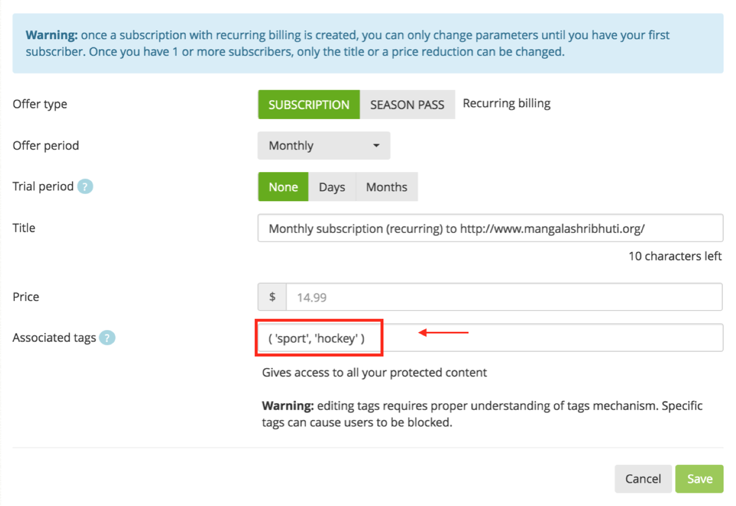 Benefits of using tags
The benefit of using tags is to divide the content so you can sell specific subscriptions or passes. For example, if you have 10 videos and only 4 of them are sporting videos, you can set up a pass solely for those. This can help you sell your content to a particular audience or a specific target market.
Tutorials: http://developers.cleeng.com/Tutorials/06_Tagging_offers