To churn means to discontinue a subscription. That's why Churn Rate is one of the key indicators of the health of your subscription business.
Detailed subscriber and subscription churn analytics can be found, among others, at the Retain step of the Retention Journey. They provide a breakdown of the balance between involuntary churn (payment-related) and voluntary churn (customer choice).
They also provide you with some insight into why a churned customer decided to terminate their subscription.
Subscriber Churn Metrics
Subscriber Churn: The number of subscribers who have terminated their subscription(s) and are no longer active as subscribers on your platform within a predefined period, or within a period you have defined with filters.
Subscription Churn: The number of subscriptions terminated either within a predefined period or within a period you have defined with filters.
Customer Canceled Churn: The active termination of a subscription by a subscriber.
Payment Failed Churn: The termination of a subscription due to a payment failure. For example, the customer may have had insufficient funds, or their payment method may have expired.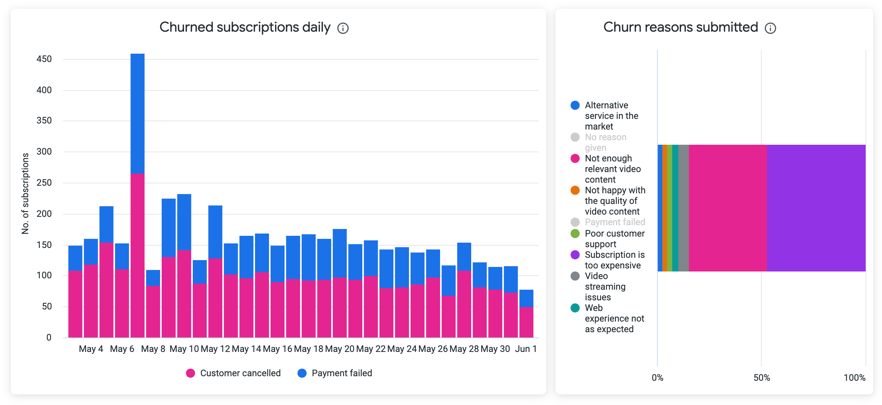 Daily Subscriber Overview
The Daily Subscriber tab under the Subscribe Dashboard provides insights about the daily activity of your subscribers.
Net Subscriber Growth = New Subscribers - Churned Subscribers
Payment Churned Subscription: The count of terminated subscriptions that churned due to payment failure.
They are also included in Churned Subscribers because the payment failed the entitlement was already terminated.
The balance between payment and customer churn is a key ratio to focus on, as they require very different responses from you. If payment churn spikes, or is, in general, responsible for a high proportion of churn, you should investigate using the Pay step of the Retention Journey.
Correcting payment churn problems can be complex, or it can be as simple as reconfiguring dunning schedules.
Customer Canceled Subscription: The count of subscriptions regarding which users have indicated a cancellation intention.
Example: If a user has a monthly subscription and they cancel it in the middle of the duration, they will be counted as a Customer Churned Subscription. At the same time, they are not included in Churned Subscribers, because the user is still in the canceled state and not yet in the terminated state.
Customer churn can be tackled in a number of different ways. Some key first steps are understanding the engagement lifecycle, and analyzing churn prediction data. This will give you a sense of when subscribers begin to disengage from your content when they typically churn, and what issues they report if dissatisfied with your content as well as will give you a chance to proactively work on retaining them.
Why are my subscription and subscriber churn metrics displaying different counts?
Subscription churn counts terminations of individual subscriptions. A customer may terminate one subscription but still remain active on another subscription. Such a customer would not be counted as a Subscriber Churn.