How to refund your Customers when using Cleeng Hi-5
Sadly, not all viewers are satisfied with the content they purchased and some will return requesting a refund. When using Hi-5 you can now make the final decision on these requests through Cleeng's handy Dashboard Application. We have developed this feature based on high demand and also to ensure that our broadcasters have tangible data and insights to further improve the overall user experience. Above is a short video introducing you to a special feature in your dashboard.
How it works
You have up to 5 days to process a viewer refund request

or the refund will be processed automatically

You can speak directly to your viewers via email

You will receive a notification in your dashboard when a request is pending
• Login to your amazing dashboard and when you have a pending refund request you will be notified by a red flag at the top of your page that reads "Pending Request".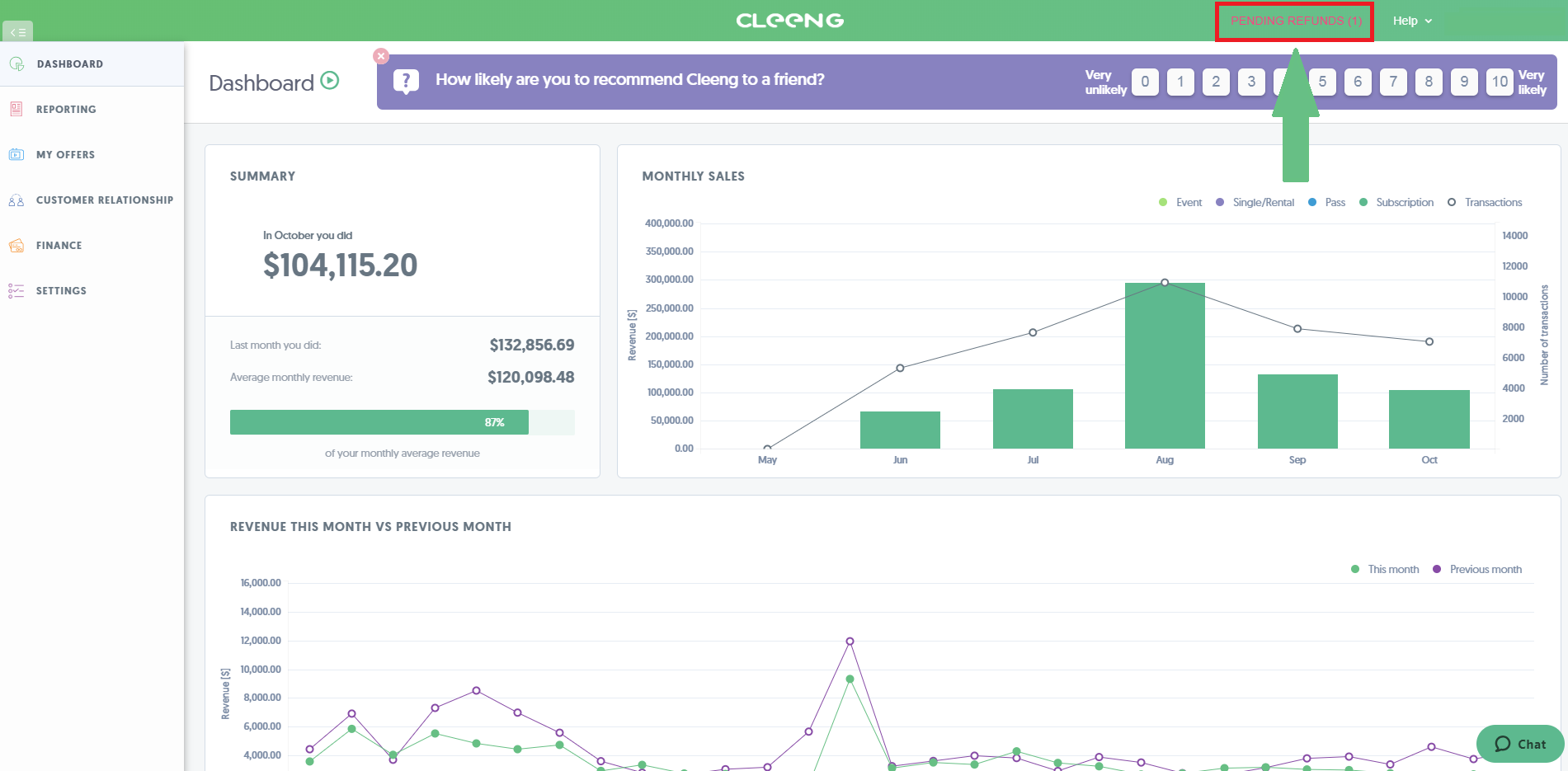 • To see the pending requests click on the notification or 'Customer Relationships > Customer Support > Refunds'.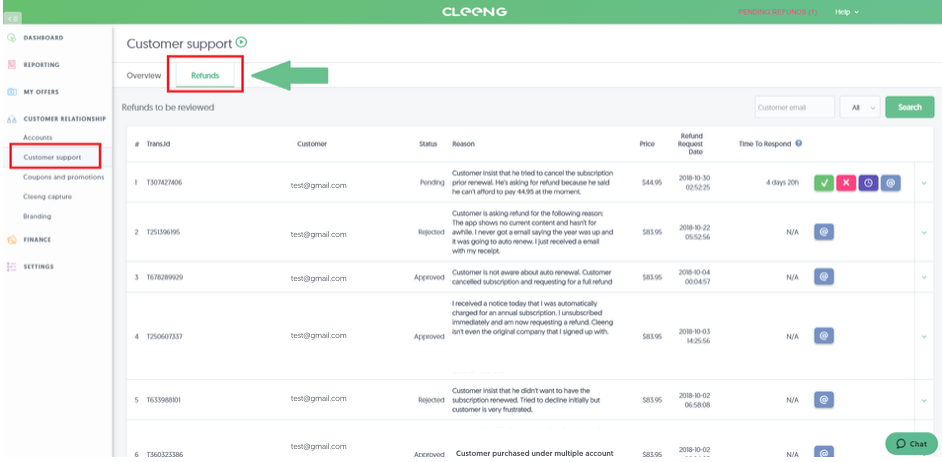 *Important to note: All refund requests that are shown in this view have first been screened by the Cleeng Customer Success Team and have been submitted in line with the Cleeng Refund Policy 
Once you are inside the refund section, you will be able to see all of your current refund requests that needs attention.
*Each column per request provides all the information about the request including:
Transaction ID

Customer Email

Status of the request

Reason for the request

Price of the transaction

Refund request date (

date the Cleeng Customer Success Team submitted the request)

Time to respond (

The number shown here is the amount of time left to handle the refund request. A refund will automatically be granted once the number hits 0)
*Following this you are presented with four (4) options to help you make your decision on the request. 
Option 1) Approve Refund
By clicking on the green ✓ button, you are approving the refund request. The viewer will receive an email stating that their refund has been granted and the funds will appear in their account within 3-5 business days depending on their banking provider.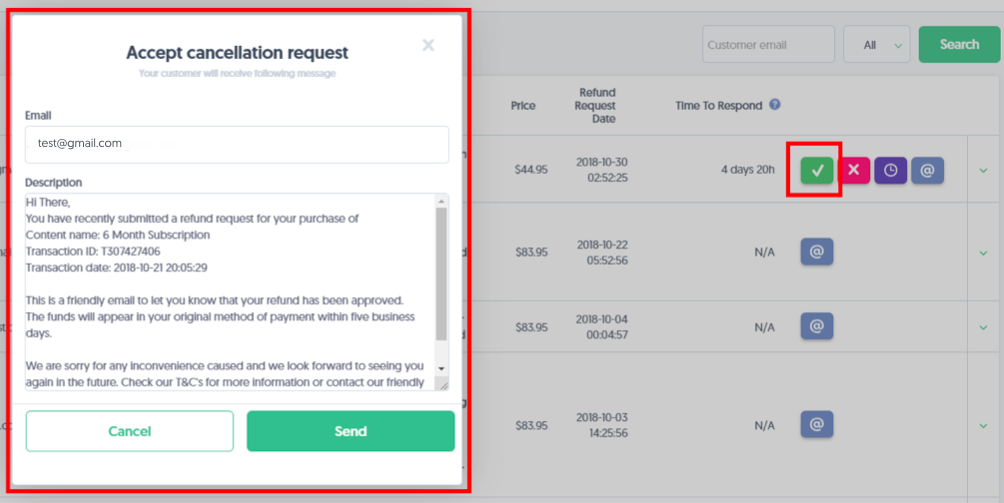 Option 2) Deny Refund
By clicking on the red X button, you are choosing to deny the viewer's refund request. The viewer will receive an email stating that their refund has been denied based on Cleeng's refund policy. When denying request we highly recommend taking the viewer's experience and retention into account. Some viewers unfortunately do run into issues when viewing your content. Given this, it could be worth while utilizing option number 4 and emailing the customer (have a read a little further down).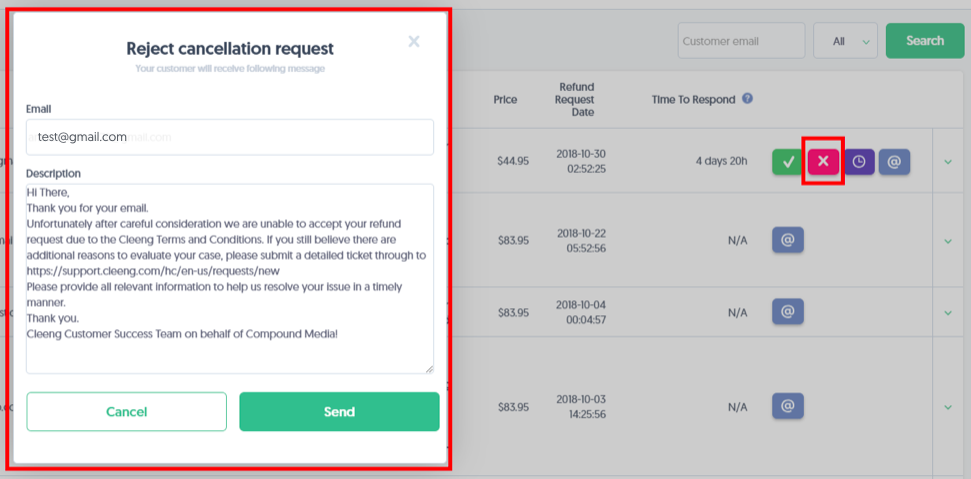 Option 3) Postpone
By clicking on the purple clock button, you are postponing the refund for a further two (2) days to provide yourself or team with more time to look into the request. At the end of this period, if no decision has been made, the refund will be processed automatically.

Option 4) Email
By clicking on the @ button, it will trigger a new email to be opened on your device's default email. Eg: If Gmail is your default email, a new Gmail email will be opened. The viewer's email will be auto populated saving you time and allowing you the ability to engage with the customer quickly.

*Please note: After you have either processed or denied a refund, you will still have the ability to contact the customer directly by clicking on the @ button.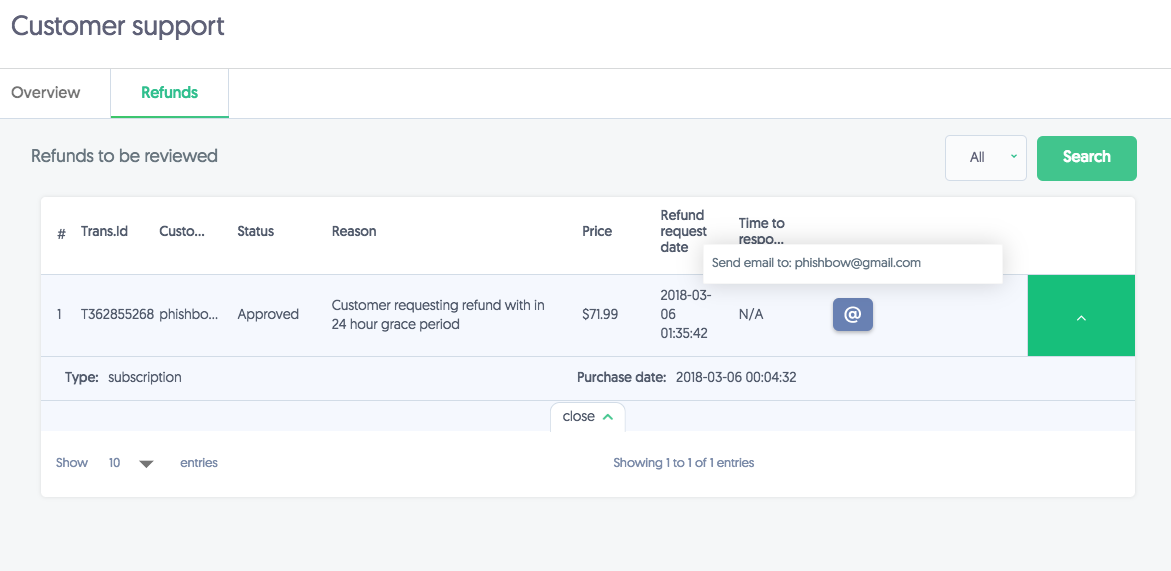 There you have it! You now have the ability to not only handle your refund requests but also gain a deeper insight into the issues your viewers are facing and find ways to improve the overall user experience.
Don't forget our friendly Customer Success Team is always here to help, just click on the "Chat box" below or drop us a line.