Do I need a Help Centre?
At Cleeng we know first-hand that customer expectations are never static and to meet the demands of these ever-growing expectations we must work in a distinctly proactive and innovative way. With that said, it is essential when launching your OTT service that you have strong self-help materials to encourage customer retention and avoid churn. Having a Help Centre embedded on your site in today's market is an absolute necessity.

"90% of consumers expect a brand or organisation to offer self-service customer support; 60% of consumers have a more favourable view of the brand if self-service is mobile-responsive. Furthermore, 73% of consumers want the ability to solve issues on their own'; one-third say they'd 'rather clean a toilet' than speak with customer service (Appamondo 2017).
Suggested Formatting of your Help Centre
Cleeng's Customer Success team suggests that you have at least 3-4 categories to house the necessary FAQs, guiding your customers and answering their questions. In the below example. we also have surfaced the most common inquiries we receive per category: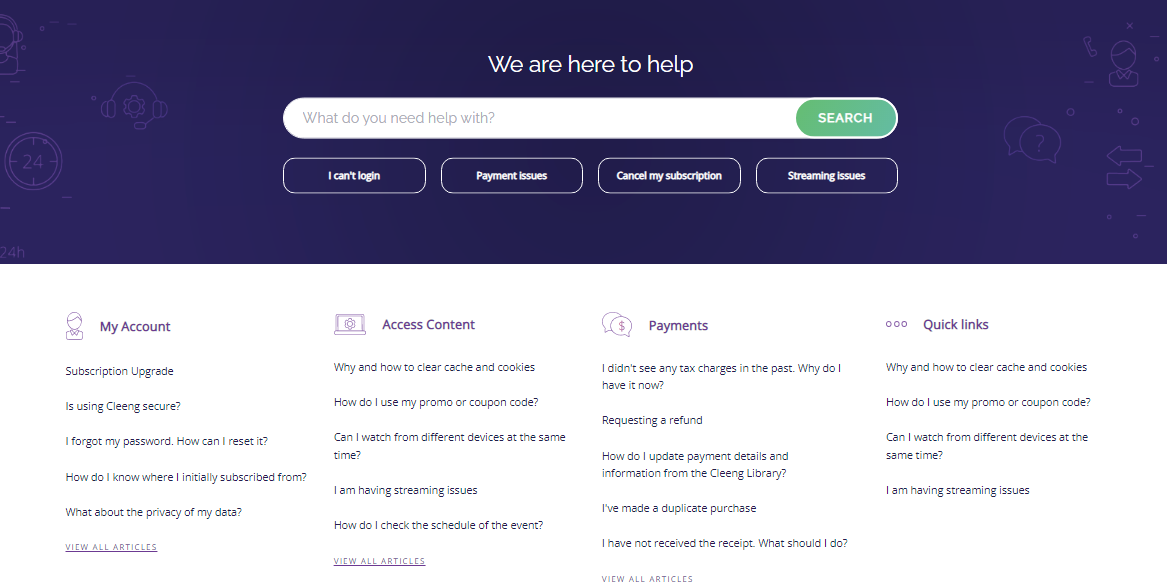 Downloadable Cleeng FAQ Template
Having a detailed and updated FAQ page saves you and your support team valuable time and effort to help your customers find relevant information in a timely manner. It's a great way to show off your expertise and help users quickly find the answers on their own and better understand your offers. Cleeng has developed a ready-to-download FAQ Template for you.
You can request a copy of the FAQ template here.