Important:
This article describes offer localization settings for the web.

In the case of native apps (Android, Apple, Roku, etc.) offer settings are configured and controlled by native apps' ecosystems. Cleeng listens to the notifications and mirrors the changes. Read more about

connecting your In-App offers with Cleeng

.
What are offer localizations?
Offer localizations allow you to adjust your content offers for customers in different countries. They are a version of your offer that will be available to customers in a country you specify. Offer localizations can have a distinct:
Title

Description

Currency

Price

Free trial length
Why create offer localizations?
There are a number of benefits for OTT broadcasters:
Create customer-friendly, rounded prices by adjusting for VAT rates across countries

Avoiding fees by localizing the offer currency for different countries

Adjusting the offer language to local markets

Set up more competitive prices for global customers

Experiment with different signup strategies, eg. free trial length

Lower refund and chargeback rates
Offer localizations are easy to set up using Cleeng's content monetization tool in the broadcaster dashboard.* They can also be created for any type of offer, subscriptions, passes, live events and TVOD products.
*previously localizations were created as 'multicurrency offers' using the Cleeng API
How do offer localizations work?
Offer localizations use the customer's location to show them the correct version of the offer you have created. For example, any customer located in the UK would see the UK version of the offer on your website. Likewise for a Canadian or French customer.
All other customers will see the default version of the offer that is defined in your local currency, unless you restrict access entirely for their country.
How do I create a localized version of an offer?
For example, you might as a US based broadcaster wish to create localized versions of your offers for Candian and British customers. Using local currencies, and adjusting the price, will boost conversion rates and help you quickly establish your service in these markets.
Step 1: Create the umbrella offer which you want to localize for different countries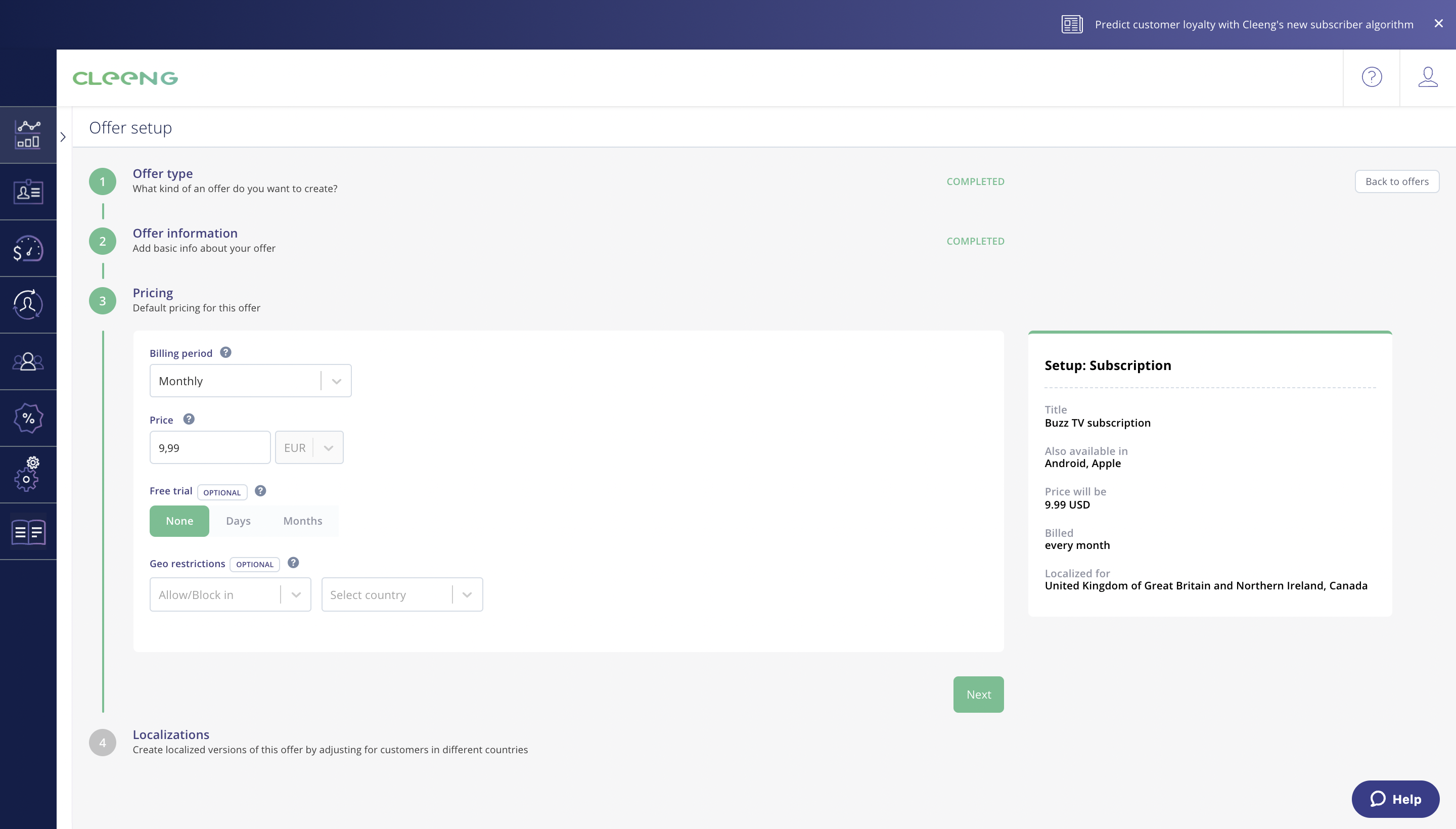 Step 2: Start by clicking 'Add one' in the Localization section of the offer setup flow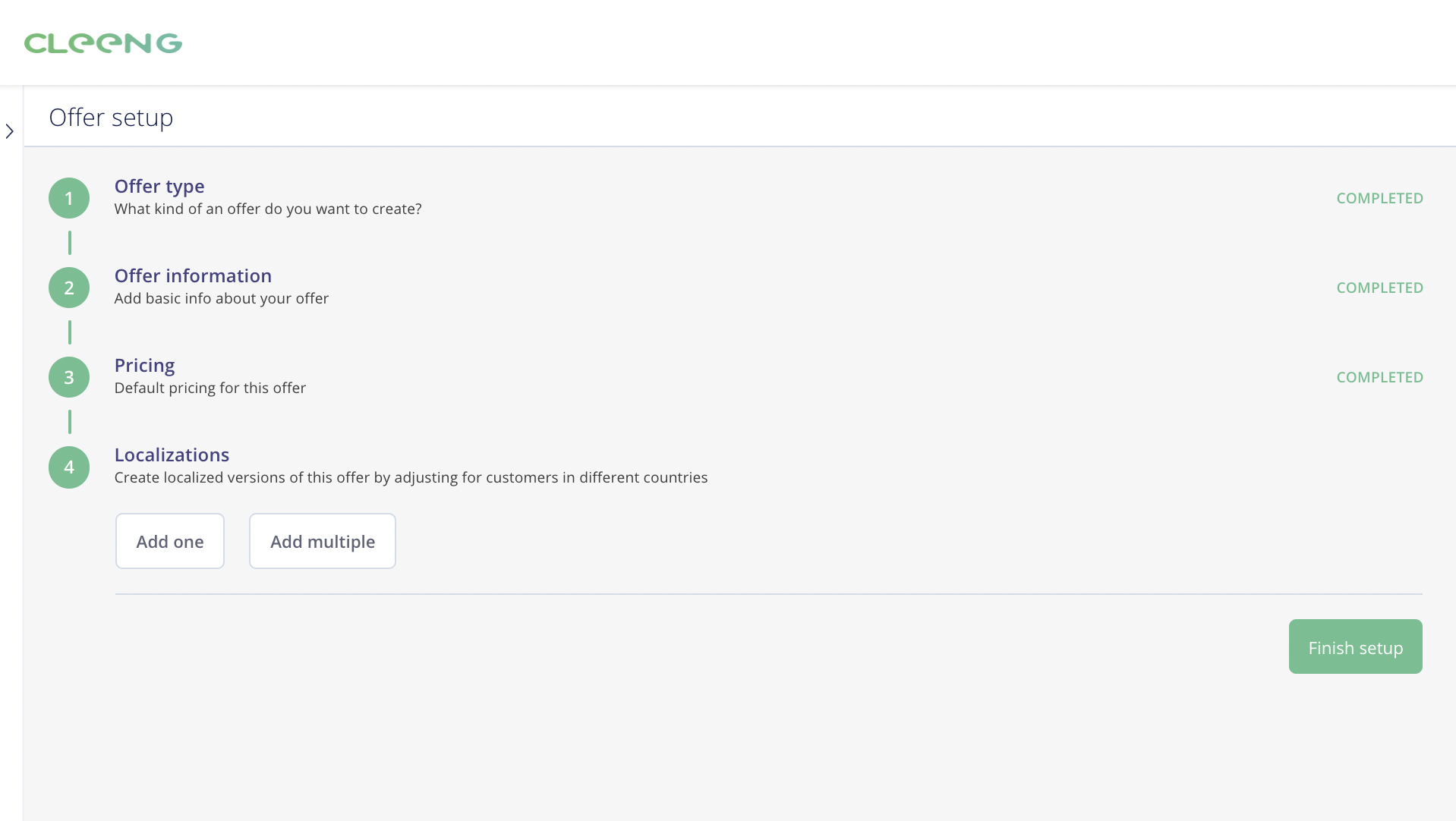 Step 3: Add the details for the UK version of the offer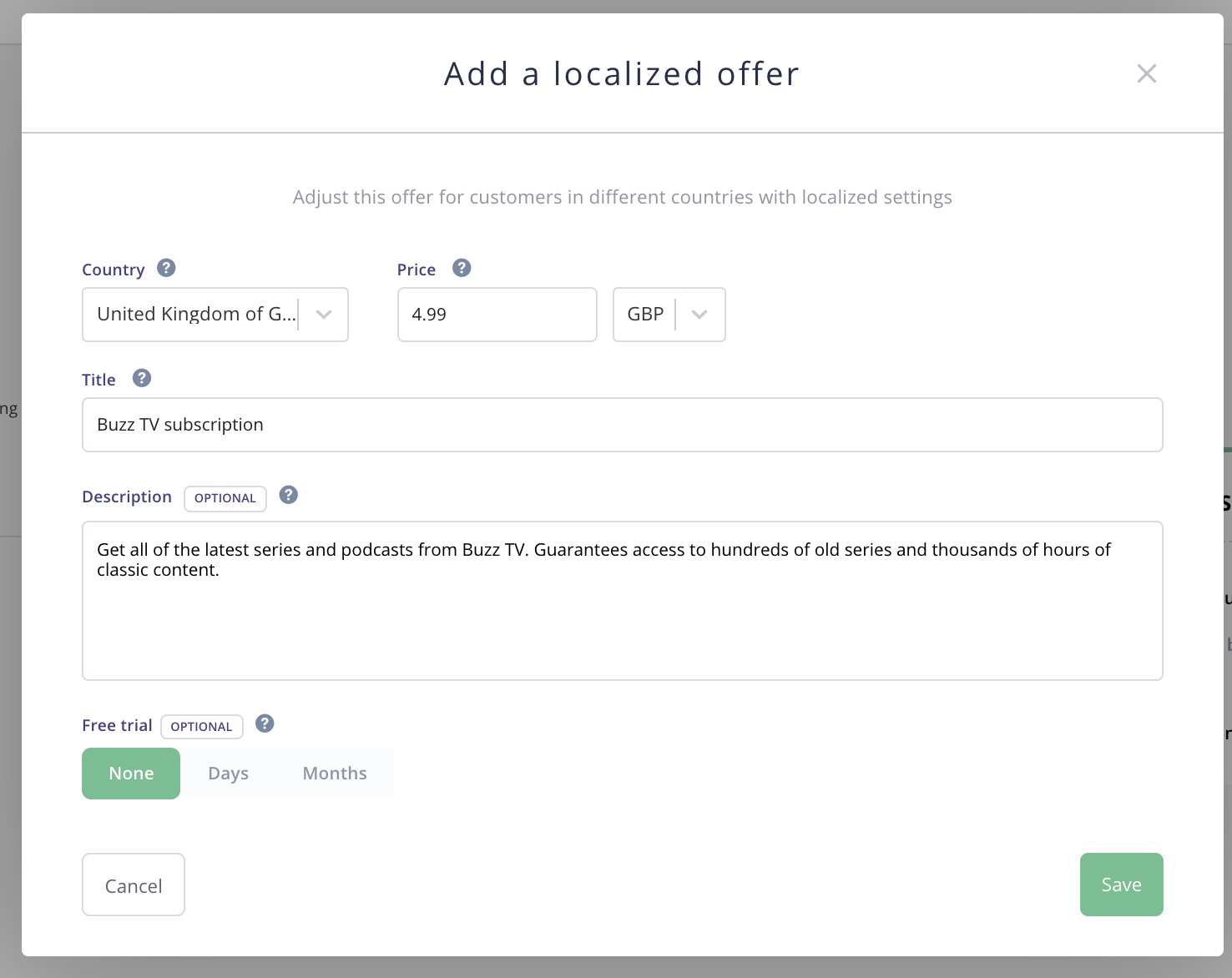 Step 4: Now define the same offer, but for Canada-based viewers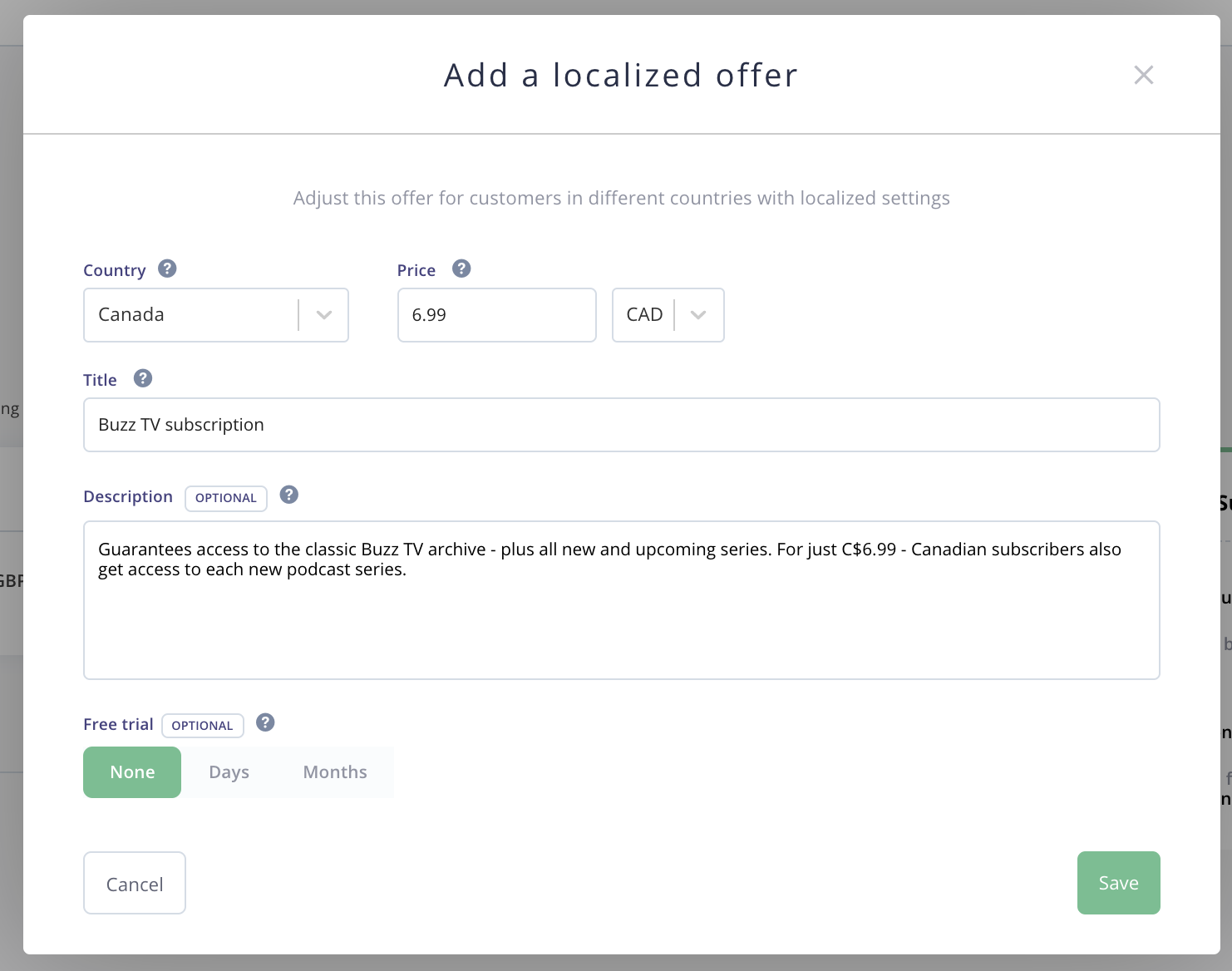 You now have 3 versions of your monthly subscription:
An umbrella offer in USD ($) that will be available in the US and other countries

An offer localizations for customers in the UK in GBP (£)

An offer localizations for customers in Canada in CAD (C$)
How do I find offer localizations in my dashboard?
Offer localizations are stored under the main parent offer. If you create a monthly subscription, then add several localized versions of the offer, you will see them in the detailed view of that offer.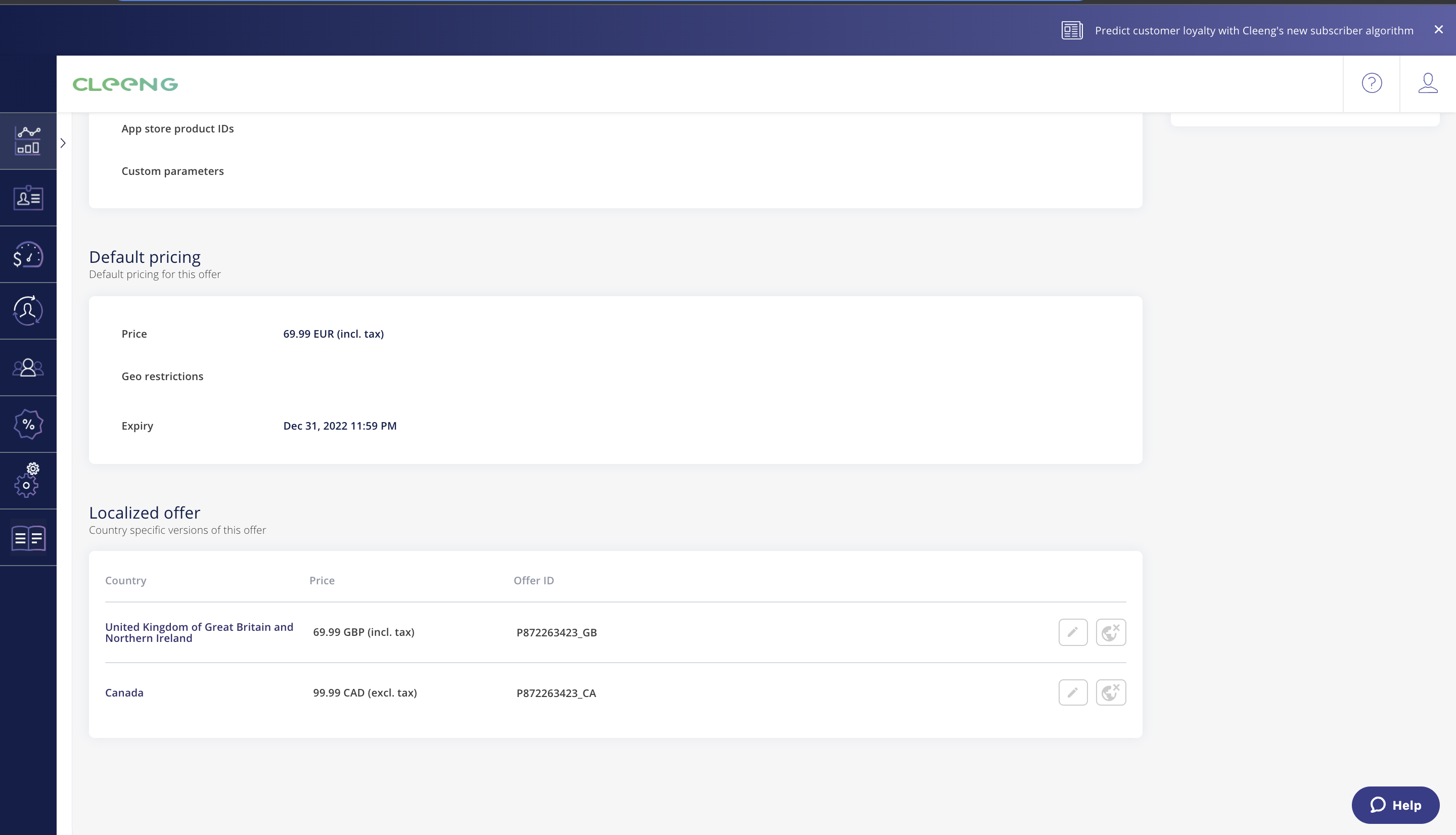 Where can I see how my offer localizations are performing?
You can do this by using the 'Offer' and 'Country' filters with ChurnIQ's analytics, like in your Offer performance dashboard.
How do I use Geo-restrictions with offer localizations?
If you choose to use both geo-restrictions and offer localizations together, ensure that all localized offers are also whitelisted (access is allowed).
For example, if you are a United States based broadcaster and wish to present a price to American customers that is not available anywhere else. In this case you might add a geo-restriction for the US. If you additionally choose to add localization settings for customers in Italy, France, Spain and Germany - you should ensure that access from these countries is permitted in your geo-restriction settings.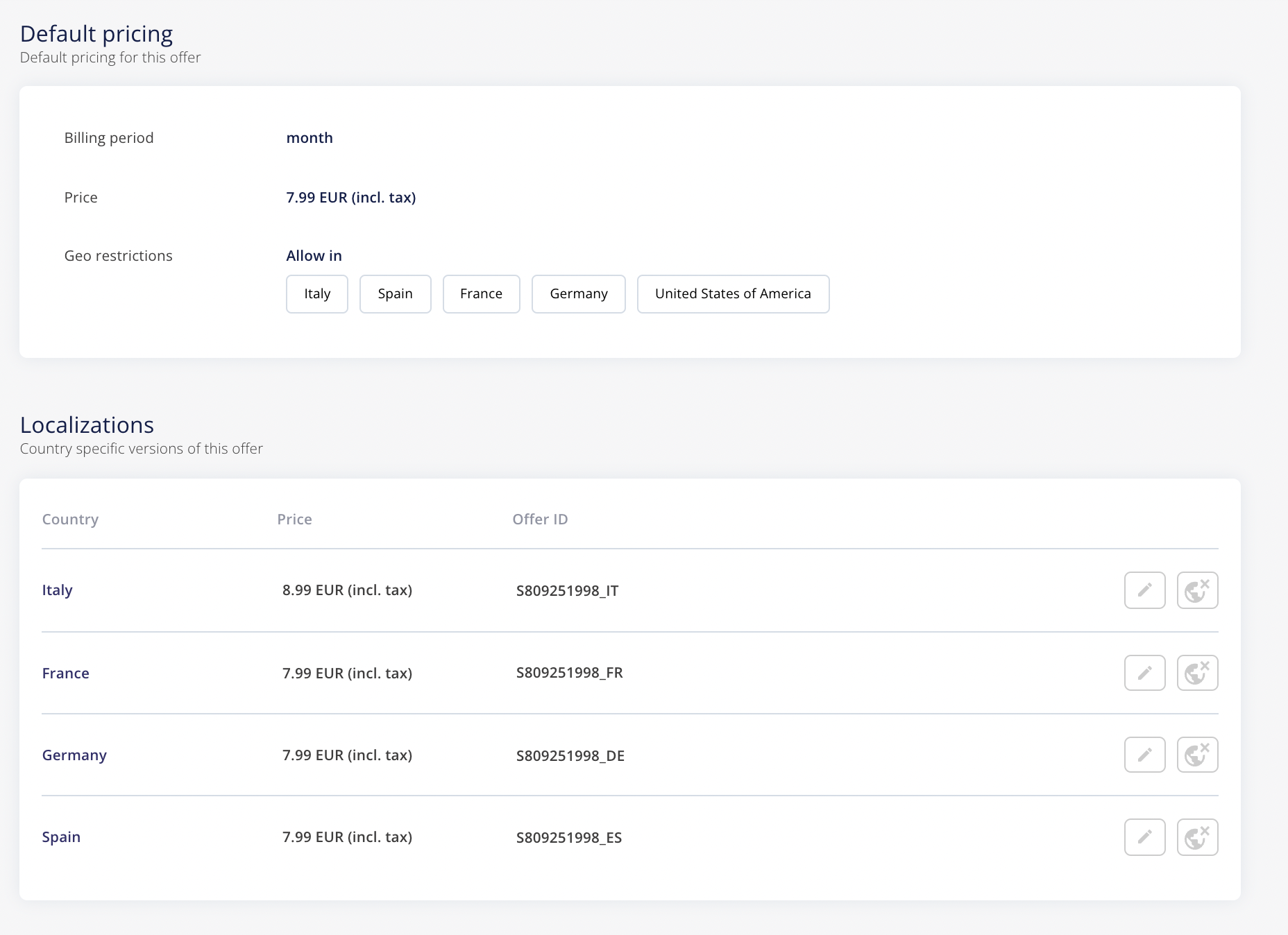 In general, it is wise to double-check your settings when using geo-restrictions and offer localizations together. You should always ensure that your geo-restriction settings do not block access from any country for which you have created a dedicated localization.