Zapier allows you to automate your work by integrating miscellaneous apps you use. By creating triggers in one application and actions in another one, you make them cooperate for you.
To give you an idea of what a powerful tool it is, Zapier offers integrations for over 3000 apps, and is used by millions of people worldwide every day to seamlessly integrate applications into time-saving workflows.
Cleeng and Zapier
Cleeng ChurnIQ - Zapier integration gives you the freedom to build a data-powered marketing automation engine without a single line of code.
Thanks to Zapier you can connect ChurnIQ with apps, such as Mailchimp, Constant Contact, ActiveCampaign, ClickFunnels.
You connect apps to automate repetitive tasks simply by creating zaps - automated workflows. Each zap consists of a trigger and at least one action. For example, you may have a zap that sends all your new subscribers to a list in Mailchimp. An added value is that you can accomplish it without developers' help as no coding is required.
Cleeng's Zapier integration allows you to automatically send subscriber segments to a marketing app. Zapier is a great add-on to our excellent ChurnIQ solution that provides you with top-level retention analytics and subscriber insights. If you couple Zapier with ChurnIQ data, you get next-level subscriber marketing and super-efficient campaigns.
How to connect ChurnIQ to Zapier
To connect ChurnIQ to Zapier when setting up a segment automation, you only need a custom wehbook url that is generated in Zapier.
In this article we will describe the 3 steps you need to take to complete this process.
Step 1 - Set up your schedule in ChurnIQ
The ChurnIQ scheduler can be opened from the Segment Builder page. Here you can define both the segment itself (using filters) and the delivery schedule.
To connect the segment and schedule to Zapier, click on the gear icon in the upper right corner, and choose 'Schedule' from the dropdown menu.
In the popup, choose Zapier as the destination for the data. This will open the webhook url field. We will get this url in Zapier.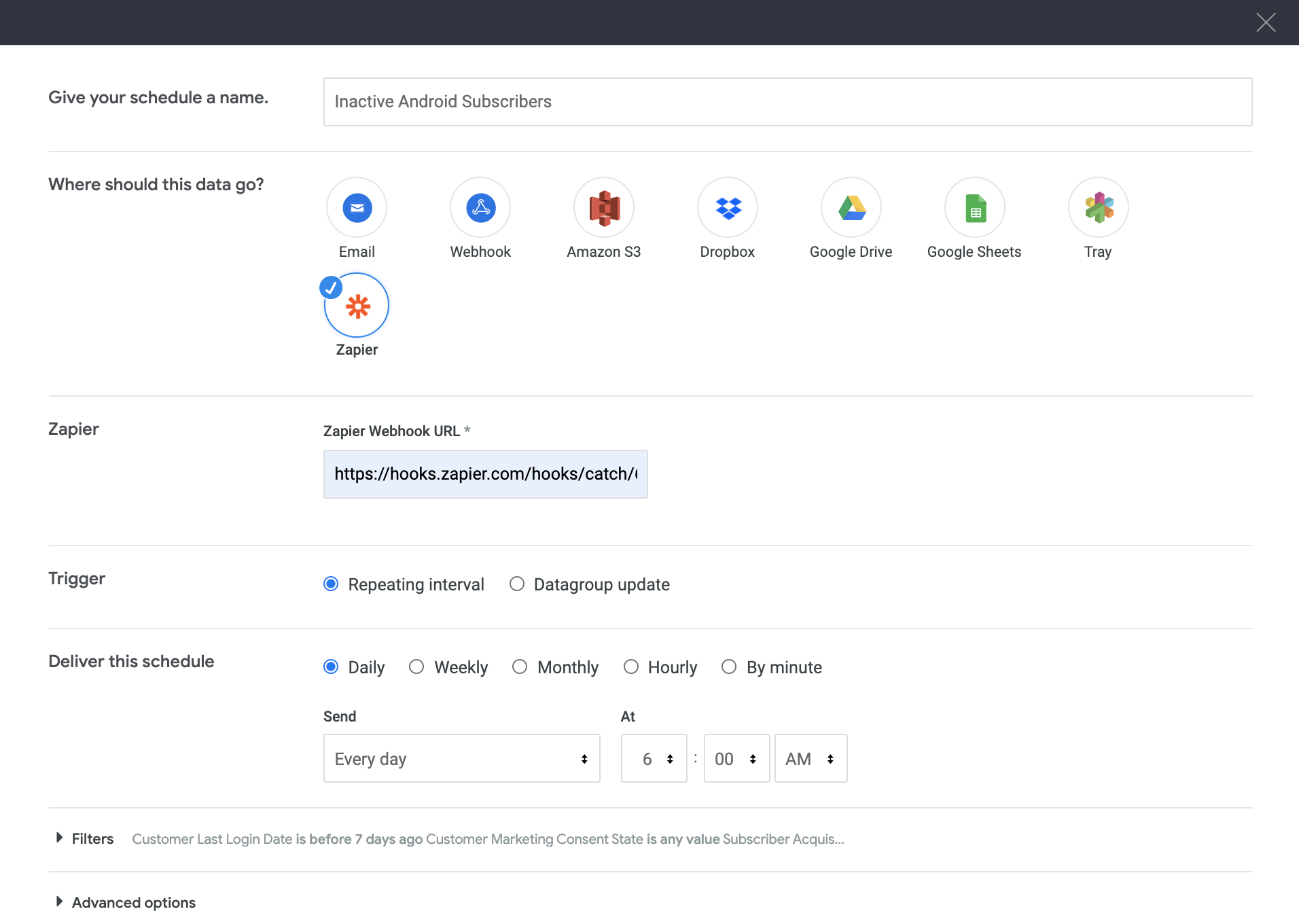 Step 2 - Set up a Zapier webhook to receive your segment
In the Zapier dashboard, choose the apps that you want to connect. The ChurnIQ segment will be sent with Zapier Webhooks, so select that as your first app. The second app will be your marketing tool, eg. Mailchimp or Constant Contact.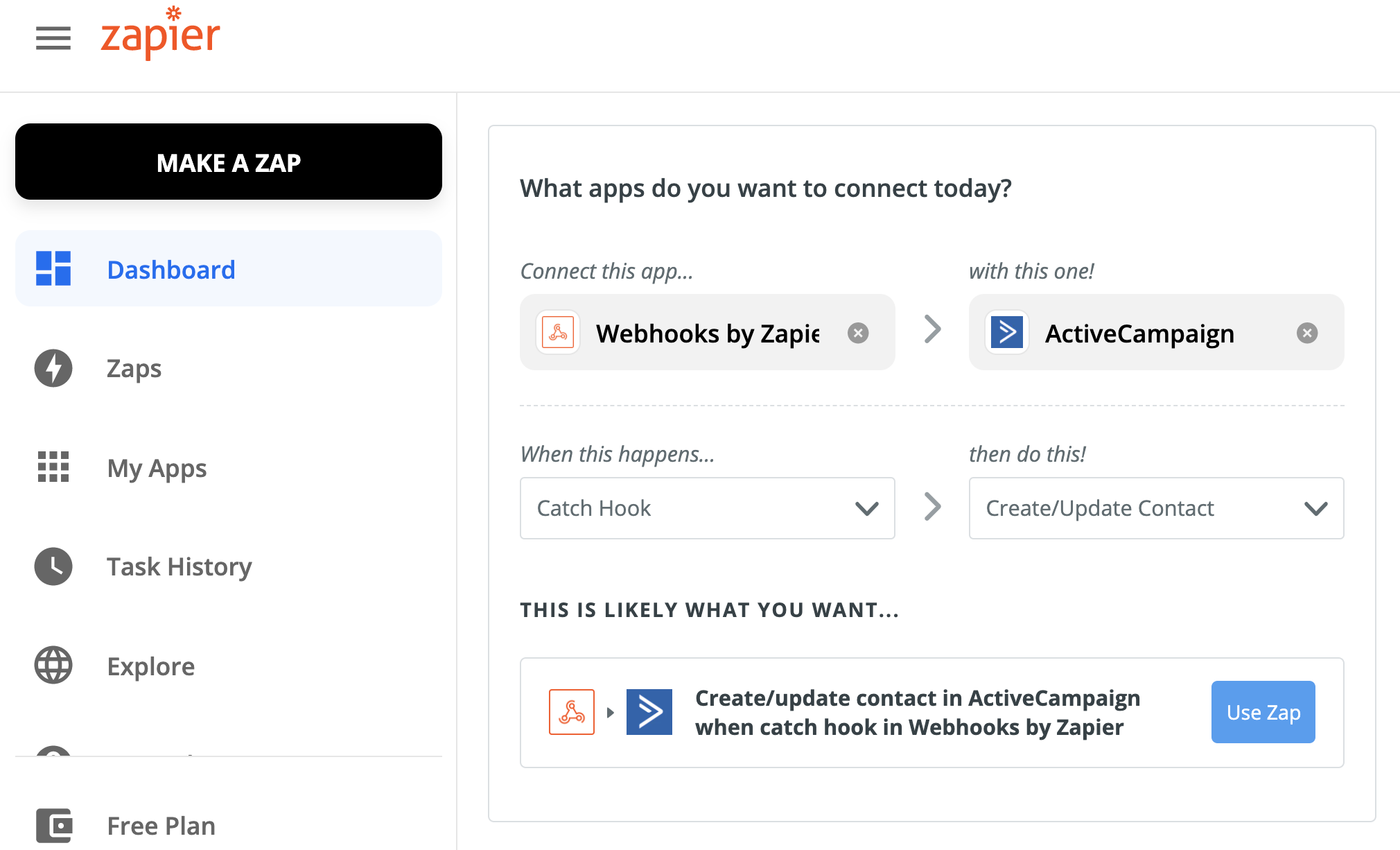 Next, we need to configure the Webhook. There are only two steps:
Pick the trigger event
Set up the trigger
The trigger event is simply 'Catch Hook'.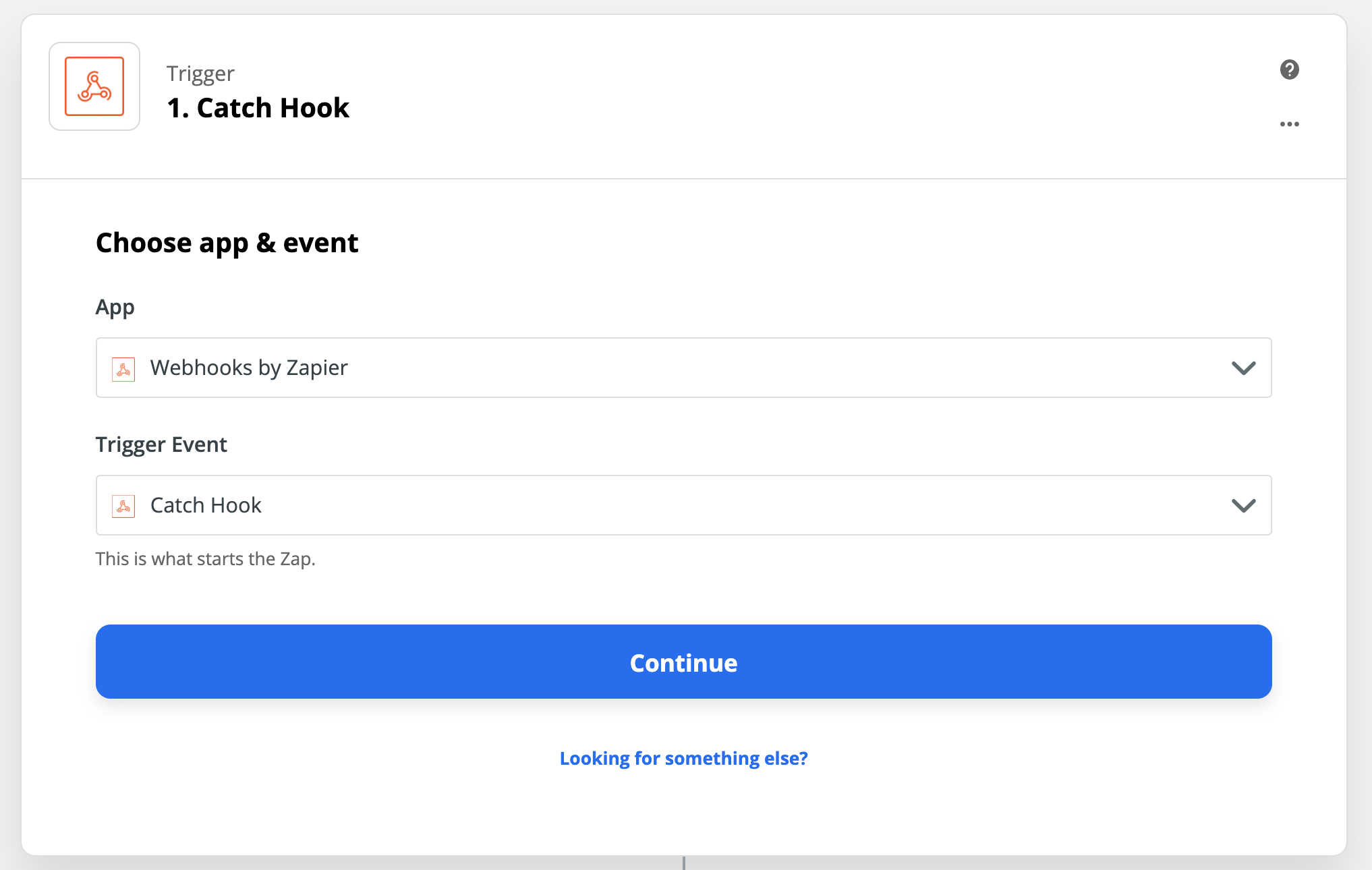 For the trigger setup, ensure that you have entered 'data' in the child key field. Once that is done, just copy the custom webhook url Zapier has generated for your action.

Step 3 - Test and save your automated connection
Finally, we need to test the automation. Start by pasting the webhook url into Zapier.

Next, test your connection with the 'Send Test' button.

In your Zapier window, test the trigger. At times it may take a few minutes for the trigger to be found by Zapier. You can always resend the test from ChurnIQ if you feel it is taking too long.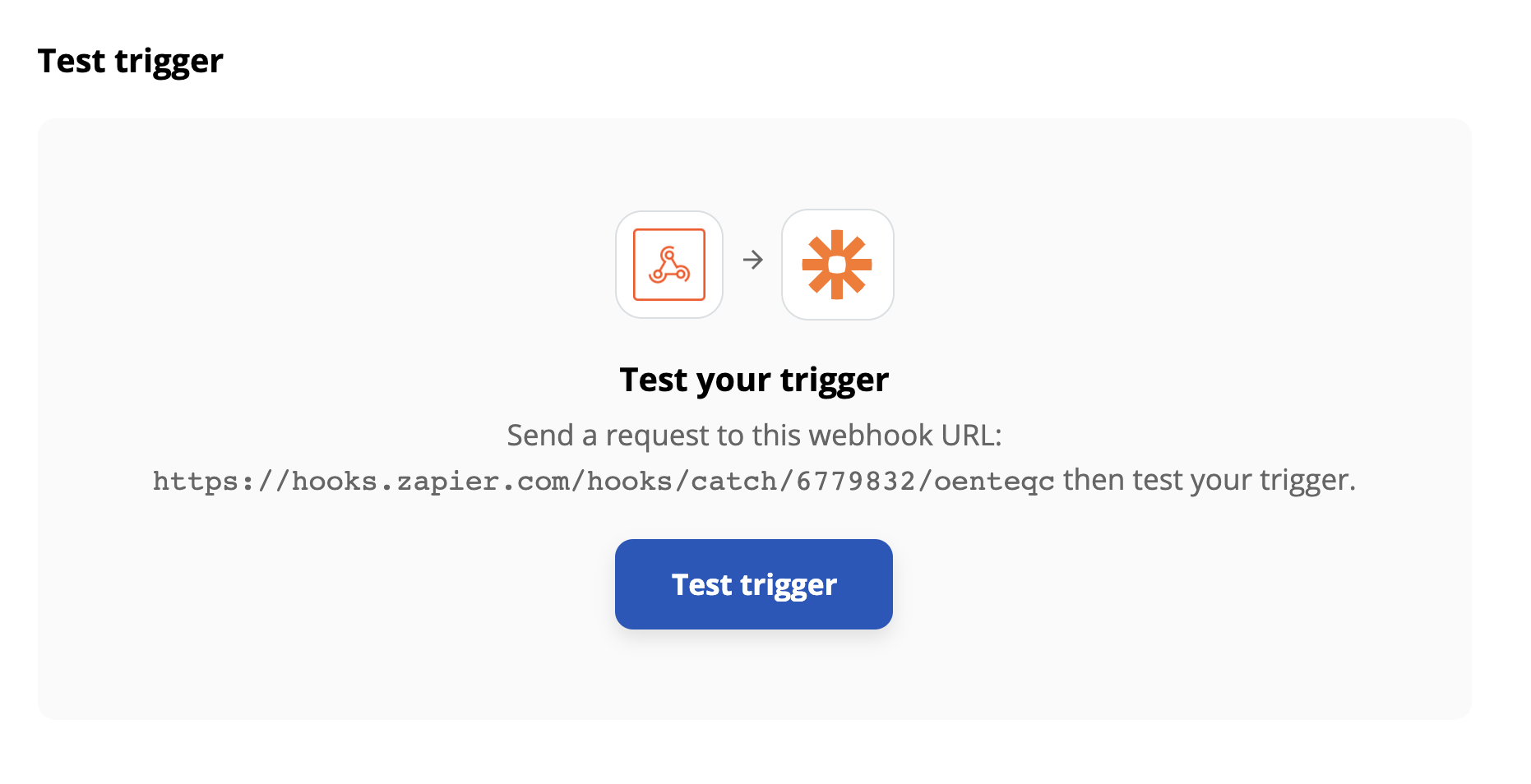 When the test is successful, Zapier will find a 'request'. This request contains the customers in your segment. Your connection is ready at this point. All that is left to do is to save your automation schedule in ChurnIQ.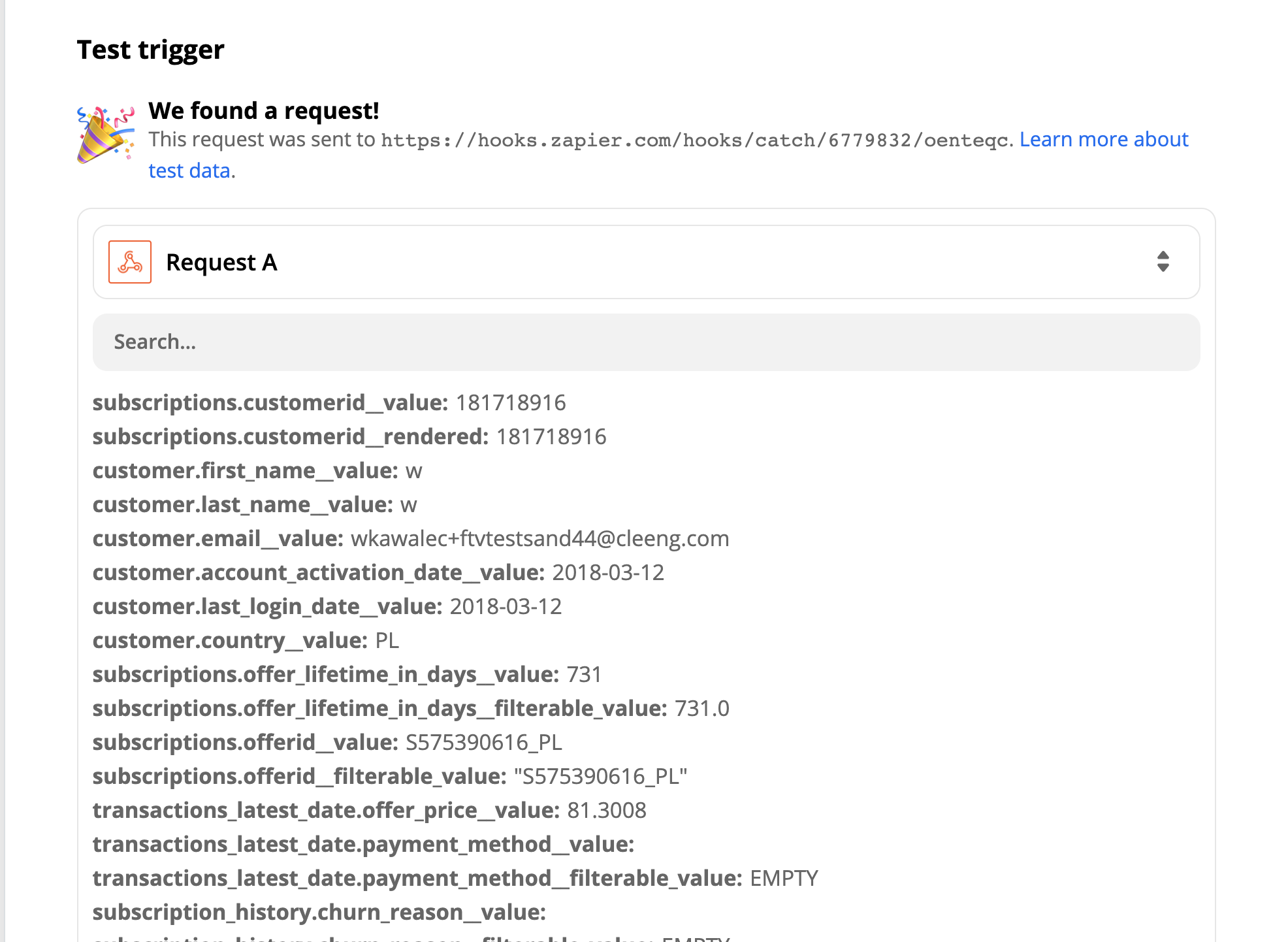 Further reading
You can find out more in the following articles: