How to refund a customer
Cleeng Core provides a handy tool that allows you to manage your viewer requests. If your customer requests to cancel and receive a refund for their purchase you can action this directly from your dashboard. Here's how:
Refunding from the 'Customer Accounts' section
1. Under the Customer tab, click on Customer Accounts
2. Manually input or search the customer's email address for the particular transaction you wish to refund
3. Click on the e-mail address found through the search
4. On the next page, under the Transactions section, you will see an option at the far right to
Go to offer details
See all details
Cancel transaction
Extend access
5. Click the x button (Cancel transaction)

6. Click Cancel transaction and refund to confirm.

Note: Transactions made beyond 30 days or canceled payments can no longer be refunded through the ChurnIQ dashboard. Reach out to our Cleeng Customer Success Team for assistance.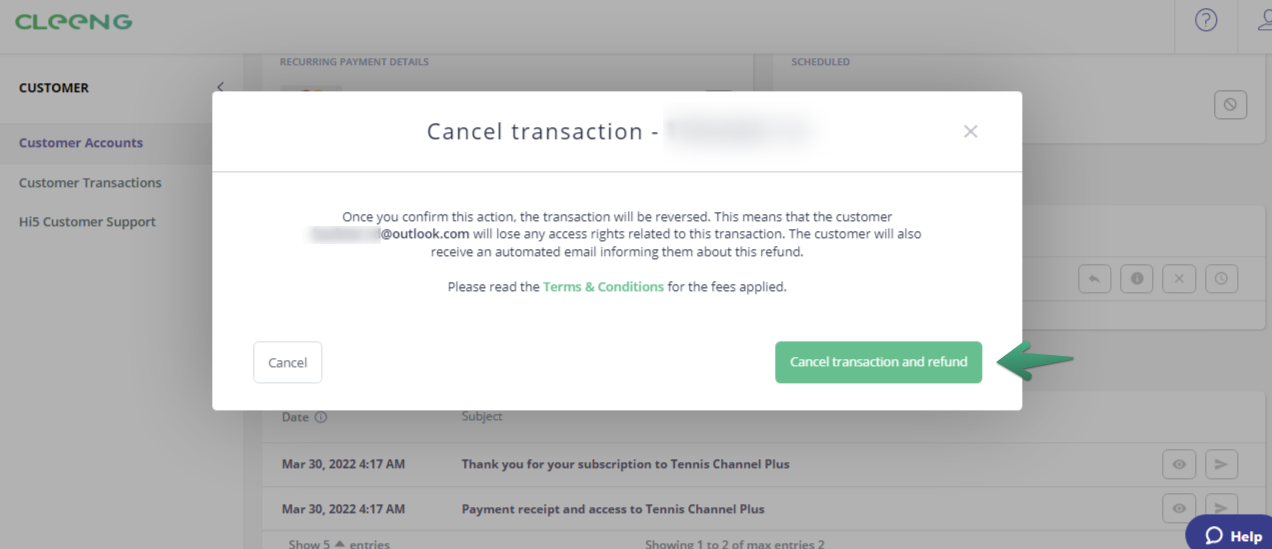 7. When you have done this, the customer will automatically receive an email advising the cancellation has been made.
8. The refund will appear in the customer's account within 3-5 business days for card payments and 6-10 business days for PayPal payments. It is always recommended to advise your customers to reach out to their financial institutions as the clearing period varies.


Third-party in-app payments (iTunes, Roku, Amazon, Google Play) will remain to be reviewed and processed by the said respective billers.
How to cancel a user's subscription WITHOUT a refund?
Please refer to our article about canceling a user's subscription if you need to cancel a customer's subscription without a refund.