(3 min read)
Payment and billing is the engine of your subscription business. Two types of value flow from these processes. One is the revenue itself, and reduction of the complexity your team has to deal with in securing that revenue. The second is reduction in churn.
Up to half of all terminated subscriptions are due to payment failures. Meaning that spotting and quickly fixing payment process problems has a transformative effect on subscription services.
The 'Pay' step of the Retention Journey focuses on three dimensions of your payment setup.
These are:
your subscribers' payment methods

your payment success rates (at multiple levels)

your most effective distribution channels.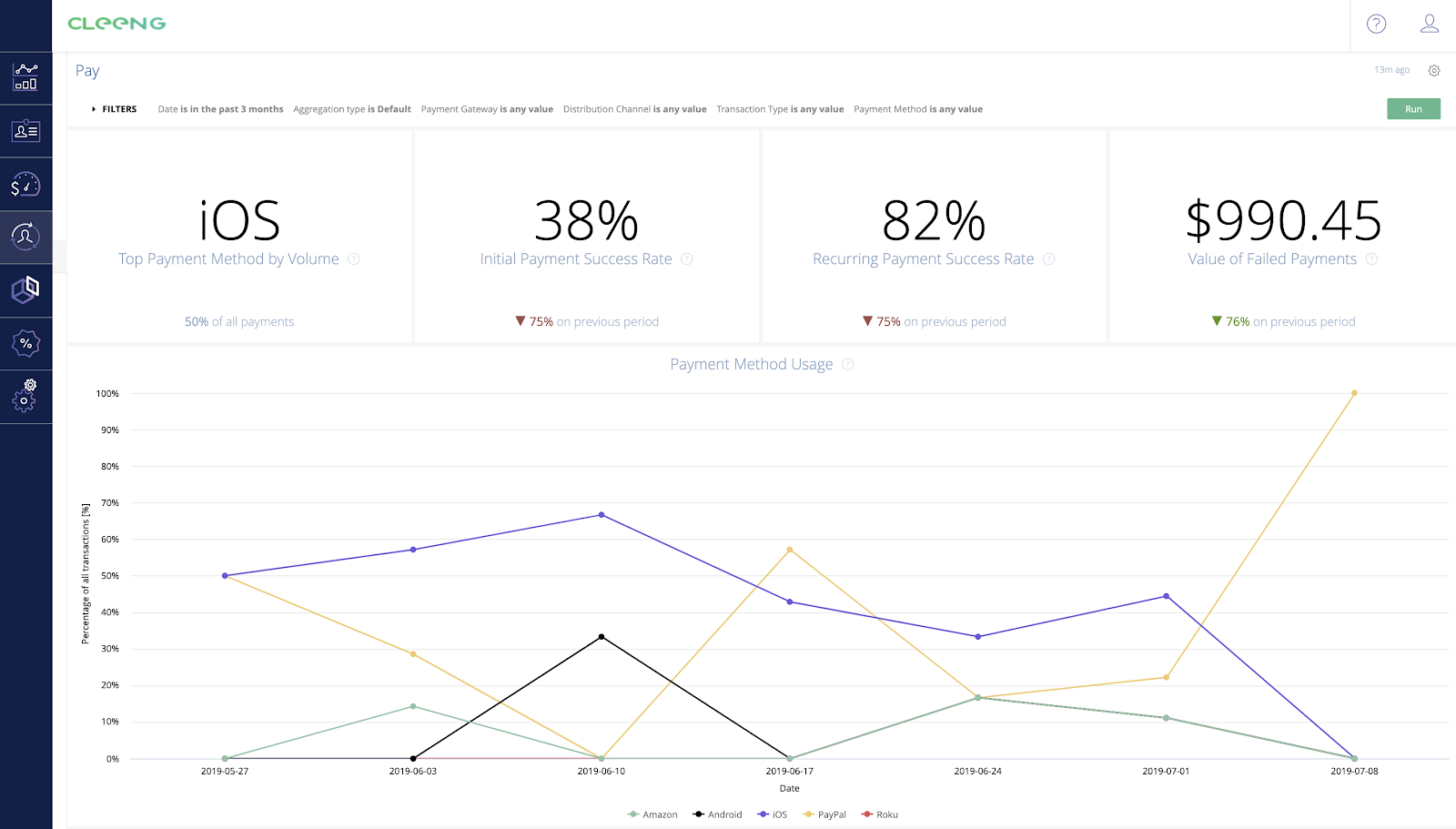 Key Insights from the Pay Step
These are some of the most important insights you can access on the pay step of the subscriber journey:
How efficient are my payment & billing processes? What percentage of payment attempts are successful?

What is the revenue cost of failed payments for my business?

What distribution channels or web stores are most of my payments coming through?

Is location affecting the popularity of a method? Do I need to add more payment methods?

Where are the weakest points in my payments platform? Where will I get the best ROI on platform improvements?
Using Pay Analytics
Your Pay analytics provide you with deep visibility into your payment platform. They will allow you to quickly assess and evaluate the significance of your involuntary churn costs. This makes them a starting point for any churn reduction project you engage in, and the ultimate source of truth in evaluating your success.
The SRM dashboard's payment analytics can be used to pinpoint the exact source of any payment churn issues. You can, for example, decide to analyse payment churn in a single month. With Pay analytics, you can then zoom in on the method and channel within which most churn occurred.
This allows you to focus your platform improvement efforts, while also alerting you to a subscriber segment who are at a higher risk of experiencing this problem. Having the knowledge to take the right type of preventative action is the key to building higher subscriber retention rates.

Pay analytics also allow you to balance the costs and benefits of tackling payment inefficiencies. One metric to focus on is the value of failed payments, which shows you the monetary cost of these inefficiencies. Another is the actual number of failed transactions. By combining this number with your average CLTV, you can see the lifetime monetary cost of each failed transaction.
This gives you a more complete view of how much involuntary churn is impacting you. To understand just how big an impact small reductions in involuntary churn can have on your revenue, use the Cleeng churn calculator to create a forecast - https://cleeng.com/churn-impact-forecaster

Pay Metrics
You can find definitions, calculation logic, and analytical uses for each Pay metric on their respective pages.