(3 min read time)
The Experience step allows you to monitor and act on subscriber engagement and satisfaction trends. This stage of the Retention Journey is designed to help you track, analyse, and grow the value that your customers derive from your subscription service.
This guide will focus on your engagement analytics. Click here for a guide to your Net Promoter Score Analytics.
Engagement
Engagement analytics are the most valuable ongoing indicator of how highly your subscribers value your product. Higher engagement means longer retention, more upgrades, and higher lifetime value.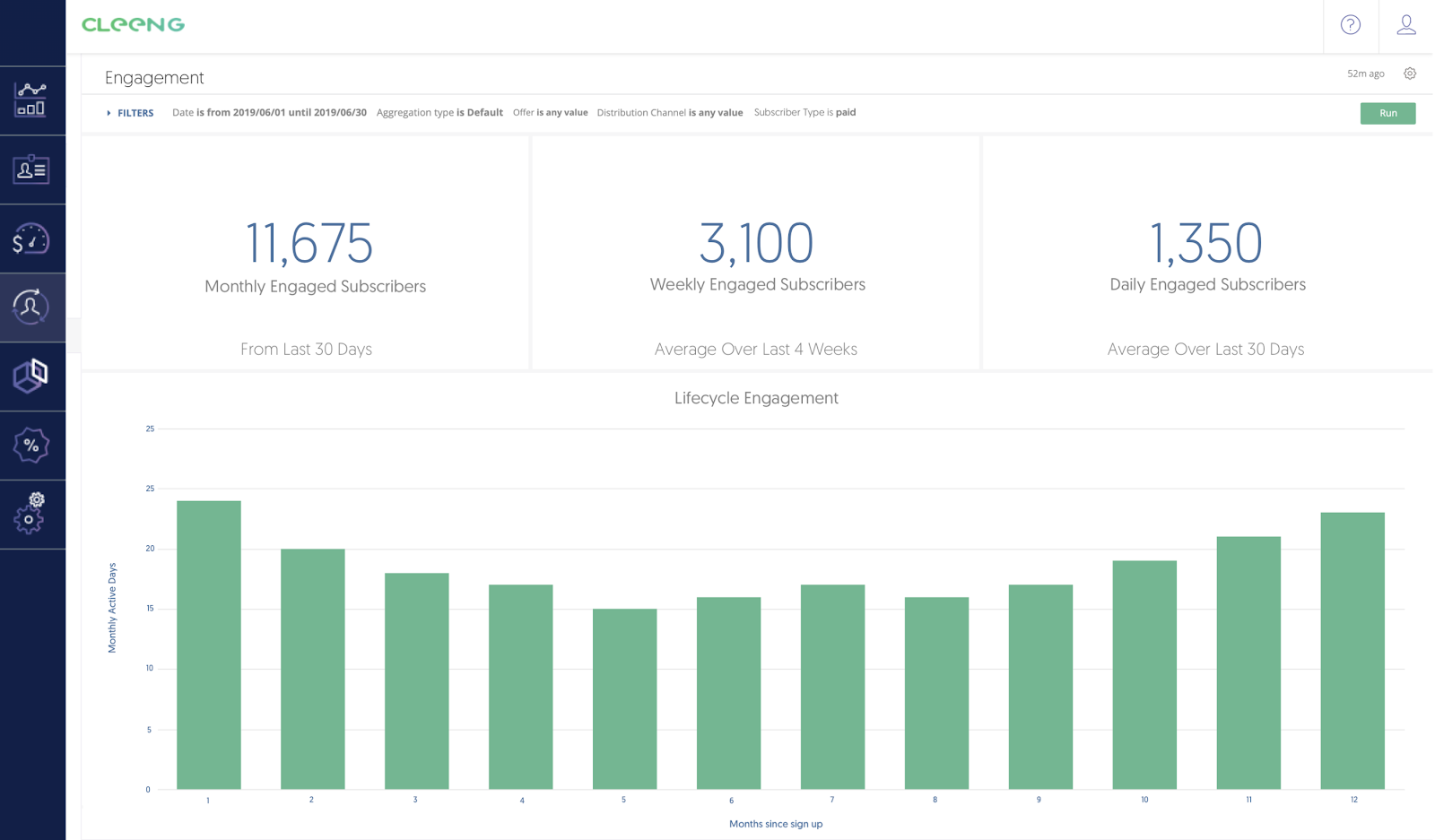 Key Insights From Your Engagement Analytics
These are some of the most important insights you can access from your engagement analytics:
How highly do subscribers value my content? Must watch or might watch?

How does engagement grow/decline over the subscriber lifecycle?

How big is the core user base? Is this number growing? Who are these users?

How strong is the engagement-churn link? What is the right window for re-engagement?
Using Engagement Analytics
There are many different ways to use your engagement analytics. Here are 3 simple analyses that you can quickly use to make product, marketing, or customer decisions.
1. Growing your core user group
Cleeng provides 3 metrics for tracking the engagement intensity of your subscriber base. These are:
Monthly engaged users (customers accessing content at least once a month)

Weekly engaged users (number of customers accessing content in a typical week)

Daily engaged users (number of customers accessing content in a typical day)
In combination, these 3 metrics characterise the depth of engagement with your content. They also reveal your customers preferred usage patterns.
The right engagement level to track will depend on your content, but for most services Weekly and/or Daily engaged users will be critical numbers to grow.

2. Understanding the engagement lifecycle
The engagement lifecycle is one of the key customer models on which to base retention and customer engagement actions. Two of the most important insights to focus on are (1) engagement stickiness and (2) engagement cliffs and peaks.
Engagement stickiness is the length of time for which strong engagement continues. The simplest way to understand it is as the decline or growth in days engaged over a given time period (eg. 3 months).
Engagement cliffs and peaks help you to identify your primary retention and upsell lifecycle points. Cliffs represent a clear drop off in engagement frequency, and peaks show you lifecycle points of intense engagement. Learn more about the engagement lifecycle here.
3. Measuring the engagement-churn relationship
An important use for your engagement analytics is profiling your churn risk, and segmenting your subscribers accordingly. The first question to answer is how linear the relationship is between engagement and churn, and how strong the relationship is in general.
The larger the proportion of churned subscribers who are engaged at a low level, the stronger the engagement-churn relationship.

Engagement segments should also be used as a basis for both retention actions and upselling to higher value subscriptions. They help you to identify who sees your content as an occasional distraction, and who uses it habitually. This migration of users from 'might use' to 'must use' territory is the high level trend to track on this step of the Retention Journey.
Configuring your Engagement Data
In technical terms we understand engagement as a successful entitlement check for a customer. A successful check occurs when an external system makes a request to "getAccessStatus" API on behalf of a customer, and that API returns "accessGranted: true".
As a result, the exact engagement numbers will depend on how the Cleeng API is implemented. For example it can be affected by your caching strategy.
For consistent reporting, we recommend to query the "getAccessStatus" API every time a customer is attempting to watch a video (eg clicks on a "play" button). To learn more about how to configure this query, check out our API reference for this method.
Engagement Metrics
You can find definitions, calculation logic, and analytical uses for each Engagement metric on their respective pages.