Creating a Coupon Campaign
In the OTT Industry, it's no secret that viewers like to get discounts or coupon codes. With over 64 different coupon combinations to use, Cleeng Core's Coupon Campaign allows you to offer an effective small advertisement that will surely help you attract more viewers, increase sales and improve customer retention.
How to create a Coupon Campaign?
We have prepared a short video to show you how you can start your own Coupon Campaign in a few simple steps.
To break it down, in your Cleeng Dashboard, simply click on "Coupons and promotions" tab under the Customer Relationship section.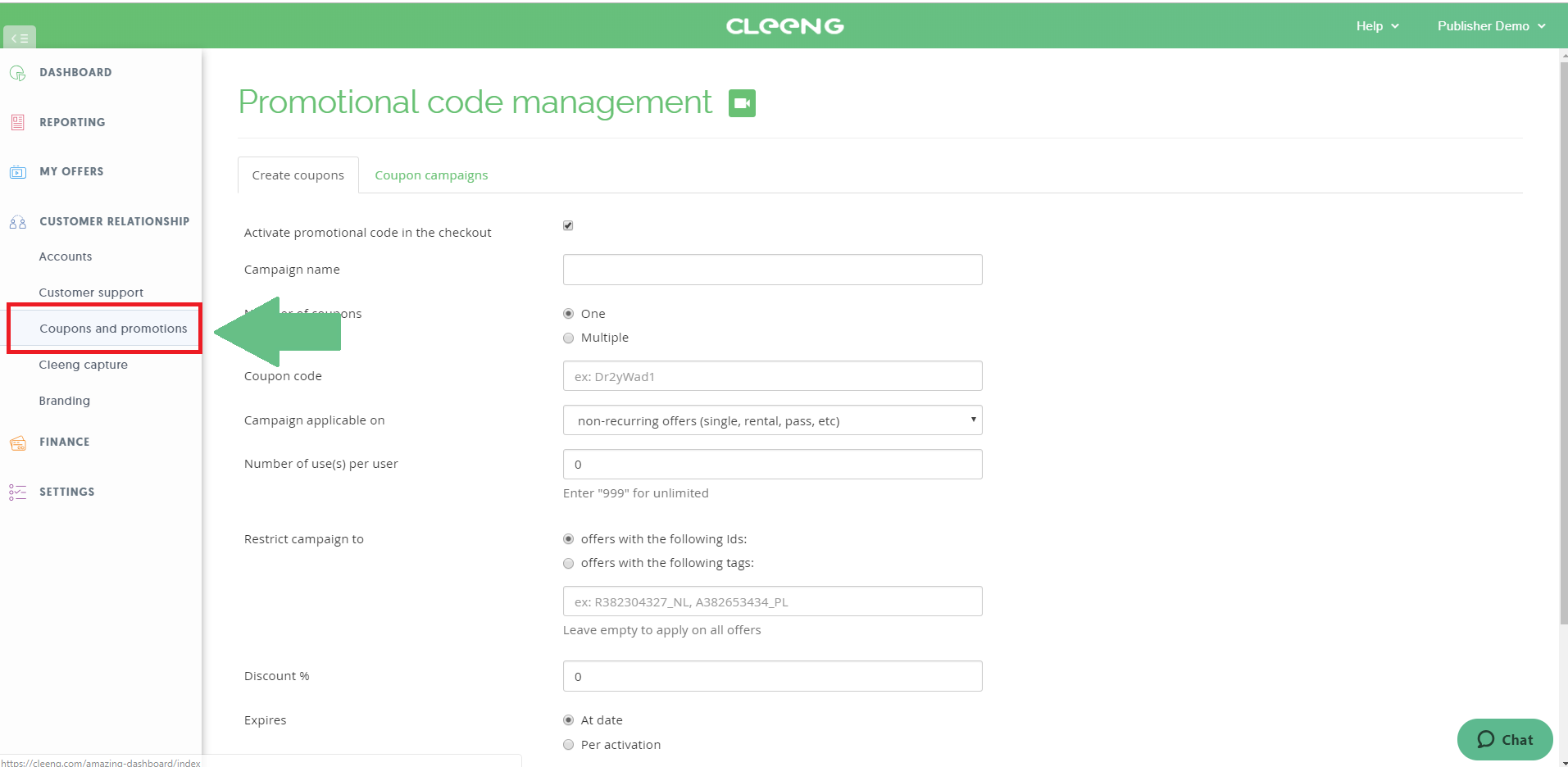 1. Key in your 'Campaign name'.
2. Number of coupons & Coupon code: You can choose to create either one coupon or multiple coupon codes.  

If you choose

One

- all your viewers will use the same code eg: 10%off.
Enter the name of your (Coupon Code) and share it with your viewers.

Multiple - is used to generate individual unique coupon codes for each viewer that can be downloaded after generating the coupon.
Key in the (#of coupons) you wish to create.
3. Campaign applicable on: This refers to the type of offer you wish your coupon to be applicable on. Is it on all your content a recurring offer or a single offer?

Non-recurring offers: Single, rental, Pass, event, etc).
Number of use(s) per user - number of times the viewer can use the coupon codes.

For example if you want to give away 5 rental videos per person for a 50% discount, you can set this to 5. Or alternatively you can keep this on 1, if you want to give a discount that can only be used once per viewer.

Subscription offers (recurring billing) 
Periods active - number of periods you want the discount to be active.

For example: If you have a subscription that is billed monthly, how many monthly periods would you like to apply the discount for? One month? 5 months? 
4. Restrict campaign to: Refers to restriction of a coupon to a particular offers. Simply enter the offer IDs of the offers you will be associating the campaign with. You can leave it empty it you want to apply it for all offers.

How to get the offer IDs?
For Live Events or VODs, simply go the URL and copy the code which starts with E or A.

For Subscription offers, simply click on the gear icon in the subscriptions section and copy the data offer ID.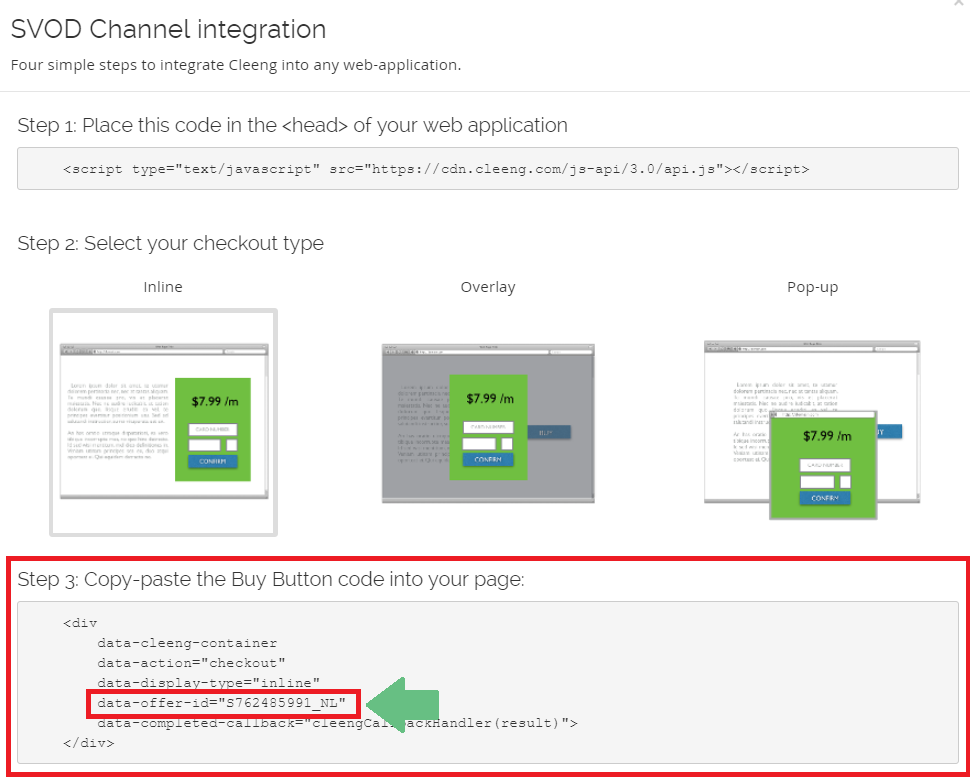 5. Discount: In this field, you can decide the percentage you wish to give to your viewers.
For example, if you want to give your viewer 50% off, they will be able to enter the promo code and receive 50% off while making the purchase.
If you want to give them access for free, then key in '100' for the viewers to have free access to your offer after entering the promo code.

6. Expires on date/upon activation: Here you decide whether you want a coupon or coupons to expire on a certain date or upon activation.

Click on '
' then go to the 'Coupon campaigns' tab to activate the campaign. 
7. Coupon Campaigns Tab: On this page, you will see your generated coupons campaigns. 
For example: 
On the first coupon, I selected One (number of coupon) and use XZ9sBB which is the code that will be used by my viewers when they make a purchase. 

 On the second coupon, I selected Multiple for individual coupon codes for each viewer which can be downloaded and will look like the image below. Upon downloading this list you will need to distribute these codes to your viewers.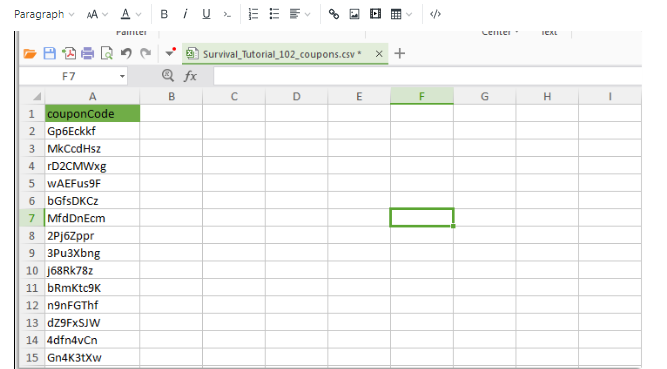 Difference between Number of uses per user and Expires per activation
Wondering how the 'Number of uses per user' differs from 'Expires per activation'?  
1. 'Number of uses per user' lets you define how many times 1 unique buyer / unique email address will be able to use the coupon in the checkout. 
2. 'Expires per activation' - max usage' helps you end your campaign after your selected amount of uses.
So let's say you set the 'Number of uses per user' as 1.
Then you decided that this campaign should expire after a maximum of 200 uses of the coupon. 
If a viewer purchases access with this coupon code they will not be able to use it again. However, another viewer still will be able to use the same coupon code as long as the max. usages of 200 wasn't reached.
We use Number of use(s) per user for Non-recurring offers so that the system can detect how many times each viewer can use the coupon code. While we use Periods active for Recurring Offers since our system already knows that it's for a subscription and can only be used once per period, each user can only use the coupon code once per period (monthly, weekly or annual). So for subscriptions, you'll have to set it for how may periods each viewer can use the coupon code. Please note that subscription is recurring, so once a viewer used the coupon code, let's say you set it to Periods active – 6, from the day the viewer activated the coupon code, it will automatically be applied for succeeding period until it's used up(6 times).
Max usage refers to the total number of how many times a coupon code can be used for all users. So for example, you have 30 users and you will set a coupon for a subscription. And each user can use up the coupon code for a period of 6 months. Here's how you will set it up:
Periods active = 6
Max usage = (30*6) =180
We have to multiply the total number of users to total number of periods active. In this way, 30 users can use up the coupon code for 6 months.
IMPORTANT NOTE: If your offer comes with a 'free trial period' and a first time viewer applies a coupon code at the checkout, the trial period will be cancelled and the discounted coupon will take effect instead.
What's in it for you?
With Cleeng Core, we always make sure that both viewers and broadcasters will benefit from our services. Below are few reasons on why having Coupon Campaign is beneficial for you:
Increased sales. Discounted coupon codes will surely attract more viewers.
Increased branding and awareness. Distributing coupon codes will expose your brand more and will serve as small advertisement which you can spread.
Get back churned users. With considerable discounts, you can entice churned users into subscribing back.
Improved customer retention. Having users start their subscription with a coupon code gains them trust with your brand and encourages them to stay as a loyal subscriber.
Related content
Coupon Campaigns must be effectively managed to receive the greatest benefit. Cleeng Core's Coupon Campaign is a key to develop your coupon strategy that will surely improve your business.