Overview
When you've got great content, you can monetize it using Cleeng's content monetization tool in the broadcaster dashboard. It allows you to choose your pricing model depending on the kind of content you have.
Whether you want to sell one-time access to a live event or subscriptions, you can do it by creating the right offer type.
An offer defines basic selling conditions, such as:
offer title

price

access period

billing frequency (how often the customer should be charged)

optionally, you can also define a free trial period or add offer localizations to it (these are versions of the offer for different countries and currencies).
You can set up offers seamlessly with Cleeng in the dashboard.
Offer types
As a broadcaster, you can set up a range of versatile offers based on the type of content you are selling.
The table below will give you an overview and better clarity on each type of offer:
Offer Type
Recurring Payment?
Access Period
Subscription

Yes, multiple payments

You can choose how often  subscribers are billed for this  offer:

Weekly 

Monthly 

Every 3 months 

Every 6 months

Yearly

Once the new season begins (seasonally)

Live Pay-Per-View

No, one-time payment

One time access for the  duration of the event specified by the broadcaster

TVOD

(Transactional Video on  Demand)

No, one-time payment

You can define the access period by choosing from the following:

Unlimited access

Rental 48 hours

Rental 72 hours

Rental 7 days

Rental 30 days

Rental 90 days

Pass


No, one-time payment

You can define your own expiry date or choose from the available options:

Day

Week

2 weeks 

Month

3 months

6 months

Year
Subscription
A subscription is the type of offer with recurring billing, so your customers are charged on a regular basis to have access to your content. 
For this type of offer, you need to define what content your customer can access (title), how much they pay, and how often they are billed for it. You also have an option of adding a free trial period, during which customers can use your service for free. 
If you are aiming to launch or you're currently running an OTT service similar to Netflix or Amazon Prime, then you may be looking for a subscription solution that provides such flexible offer management. When creating a subscription using Core, you can also benefit from simplified recurring billing logic, promotional activities, and dunning optimization to reduce your customer churn.
If your content is tied to specific seasons or events, such as sports leagues, TV show premieres, or holiday specials, seasonal subscriptions may be just the thing. 
How to create a subscription offer?
You can create it through the dashboard. To do so, please see the following guides: Setting up a Subscription Offer or Setting Up a Seasonal Subscription.
If you are interested in learning a little more about the benefits of subscriptions, please download our Ebook now! For pricing, please contact our sales team.
Live Pay-Per-View (PPV)
If you are selling standalone events, live pay-per-view is the perfect model for you. You can create an offer in only a few minutes, and customers can pay for individual streams. Live PPV is especially useful for exclusive content, like live sporting and entertainment events, but also online conferences, and religious or self-improvement events.
How to create a Live Pay-Per-View?
You can conveniently create it through the dashboard. Please see our guide: How to create a Live Pay-Per-View offer?
TVOD
TVOD (Transactional Video on Demand) is the opposite of SVOD (Subscription Video on Demand). TVOD can be:
purely transactional: when a customer pays once for unlimited access 

rental model: when a customer "rents", for example, a movie, i.e. pays for access to it for a specified period, e.g. 48 hours. 
How to create a TVOD?
You can set it up through the dashboard. For guidance, please see Setting up a TVOD Offer.
Pass
Passes work in a similar way to live events but are commonly used for sporting events, conferences, or seminars and provide viewers with access to many events under one fee for a limited period of time. 
For example, you may be a sporting organization that would like to offer your fans a season pass to all your team games for an annual fee. 
The main difference between a pass and a subscription is that a pass does not support recurring billing. This means that when a pass expires, your customers will have to purchase the next one.
Seasonal subscriptions are a powerful alternative to passes. They renew automatically when the next season begins, so you don't need to acquire the same customers twice. 
How to create a pass?
You can easily create passes through the dashboard. To see how to do it, see Creating a pass. 
Embedding offers
You can embed your offer on your website.
Select the Embed code option from the menu on the right side of the screen. It will trigger a popup with a few-step instruction. 
We recommend choosing the Custom setup, which allows you to create a seamless checkout flow using Cleeng's MediaStore SDK. Simple setup is our legacy solution.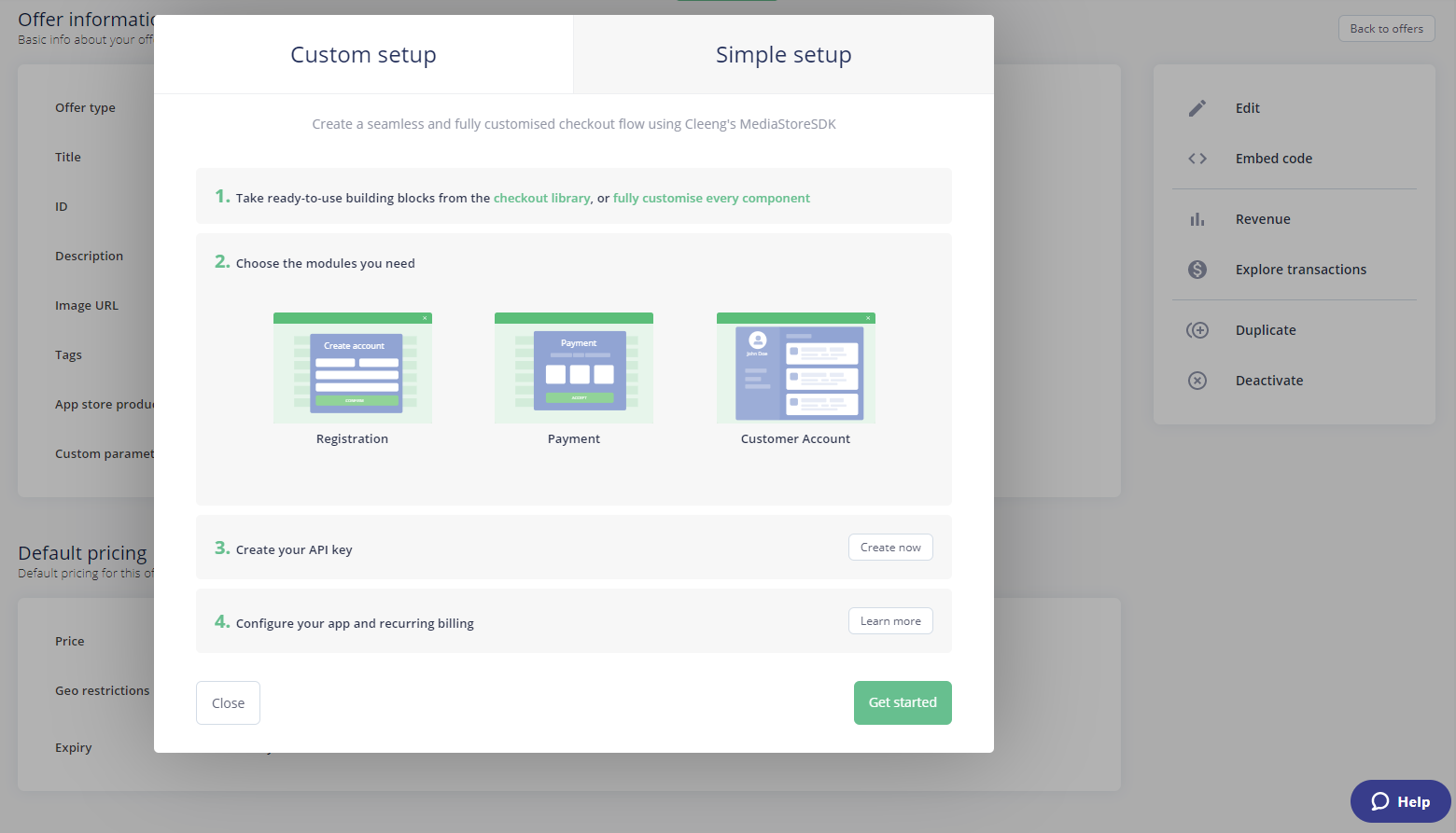 For more information on how to start with the MediaStore SDK please refer to the Quick Start.
If you would like to explore these options further, we encourage you to create a test account or book a demo.