This article explains how your campaign redemption (or coupon usage) metrics work in ChurnIQ.
If instead you want to learn about campaign renewals and conversions, you can do so here. And if you want to better understand campaign revenue metrics, you can do so here.
How are campaign redemptions tracked?
Campaign redemptions are tracked at the moment of application by the end user.
So if a user takes a coupon code, and applies it in the checkout flow for either a pass or a subscription, this is tracked as a 'redemption' in your campaign analytics.
How do analytics differ when existing customers use coupons?
When a customer with an active subscription applies a coupon in My Account, it is tracked in the exact same way as a coupon applied in the checkout. However, it might be important to remember that there may be a significant lag between the customer's application of a coupon and any transaction that the coupon applies to.
So for example, an annual subscriber may apply a discount to their subscription months in advance of the payment that will be discounted. In ChurnIQ's campaign analytics, is the customer's application of the coupon that is tracked.
Campaign redemptions visualized
The redemption of coupons is visualized in two primary ways:
by overall coupon usage in any period of time
by cumulative daily usage over time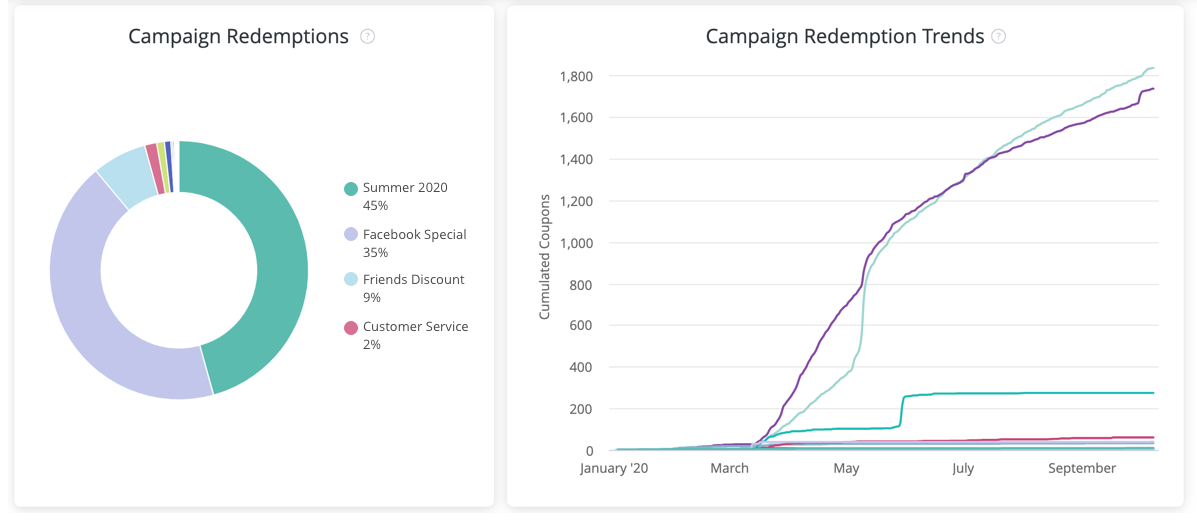 You can use different date views to filter for the campaigns you are interested in viewing. For example, if you only want to see outcomes for campaigns started in March, use the following filter condition:
Campaign start date is in the range 2020-03-01 until 2020-04-01
With this filter condition, you will see:
data for all campaigns that were created in March
a breakdown of coupon redemptions by campaign (donut chart)
a trend line for each campaign showing the accumulation of coupon redemptions over time
How to look at coupon redemptions in a specific timeframe only?
You may wish to only view customer coupon usage for a particular window of time. During a specific week, for example. To this, use the coupon redemption date filter with the following types of expressions:
Coupon redemption date is in the range 2020-09-07 until 2020-09-14 
For these types of queries, you can also set campaign start date to 'any time'. This means that the start date of the campaign does not affect the data you are viewing.
Tracking campaign redemptions by offer
You can also track campaign redemptions by your individual pass and subscription plans. These visualizations work in the same way as the other redemption visualizations.
The only difference is that coupon redemptions are grouped by the offer they were used with, rather than the campaign they belong to. This allows you to track the effectiveness of your efforts to promote specific offers over time.