The Retain dashboard allows you to track, predict, and act on subscriber churn patterns. Here are some of the important metrics you will find on this dashboard:
Your monthly and annual churn rates - short and long term

Subscriber cancellation reasons

Your upcoming subscription renewals and renewal performance

Churn probability scores for your subscribers

A breakdown of at-risk subscribers with their reasons for leaving your platform
This dashboard gives you a clear picture of the health of your subscriber base. It also allows you to see exactly which customers are happy, and which ones are thinking about canceling their subscriptions. This is thanks to Cleeng's churn prediction algorithm.
Summary
This section of the dashboard provides you with the following information:
Subscribers churned this month: The number of customers who in this current calendar month (month to date) have churned their subscription(s) and are no longer active as subscribers on your platform.

Churn rate this month: The percentage of your overall subscriber base that has churned so far in this calendar month (month to date).


Recent activity
In this section can see your recent churn trends. You can adjust the date range for this data to analyze the period you're interested in.
Churned subscriptions daily: The count of subscriptions churned in each of the past 30 days broken down by the churn reason: voluntary churn (customer canceled; marked in pink) and involuntary churn (payment failed; marked in blue).This chart refers to subscriptions, not subscribers (one subscriber can have more than one subscription; read more about subscriber churn).

Churn reasons submitted: This chart displays the churn reasons submitted by the customers when they were canceling their subscription. Empty or non-specific responses like: "other reason" are excluded from the chart by default.
To go further into the churn patterns per offer and distrubution chanel, go to the Offer dashboards: Offer subscribers and Chanels.
Predict
This section presents your churn prediction data. It shows you the number of currently active subscriptions that are at risk of churn, and how strong the probability of churn is in each case. Read more about the churn prediction algorithm.
Subscription churn risk: The risk distribution for all subscriptions identified as being at risk of churn.
Subscriptions with a risk score of less than 50% are included in the "no risk" category and hidden by default. You can explore the size of that group by clicking at the "no risk" label.
Customers who have already cancelled their renewals (but not yet churned) will automatically be assigned to the "very high risk" category.

Detected churn causes: The most likely reason to churn is automatically assigned to all subscriptions identified as being at risk of churn.
This tells you why your customers are at risk of churn. The 5 primary reasons used by the model are:
Not engaged with your content

Burning through your content

Have a history of churn

Their payment is unreliable

There is a problem with their offer
Analyzing the detected churn cause together with churn reasons submitted (from the Recent activity section of this dashboard) will help you adjust your actions to prevent voluntary churn.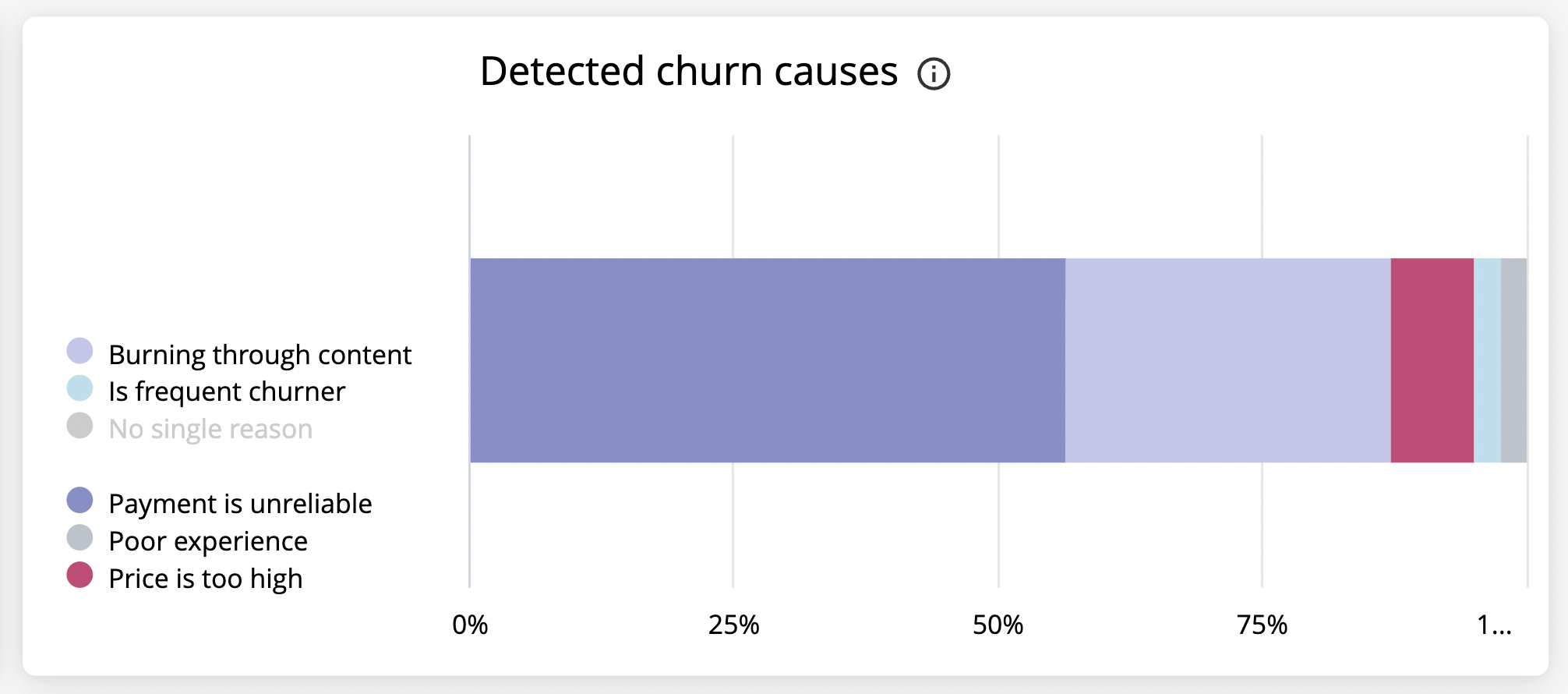 This section also shows you the subscription renewal performance weekly for your service. This is the number of subscriptions due for renewal in the current calendar week, and the number of subscriptions that have actually been renewed to date. It shows the current and last complete week.

It also shows the subscriptions that have been cancelled that will churn in the current week, as well as cancelled subscriptions that have been recovered (the customer has resumed their subscription).
Finally, this section also presents key segments to target. These segments are important for your retention startegies. Click on the third column of a segment to target the group and to improve your subscriber and revenue retention. It will bring you to the Segment Actions page and can be directly connected to your marketing platform using Segment actions.
Long term evolution
This section provides you with a historical perspective of your retention trends. The three visualizations in this section are:
Subscriber retention performance (a.k.a. cohort retention) shows the average percentage of subscribers that are active X months after signing up. The horizontal axis represents the number of months that have passed since the acquisition of a subscriber. The vertical axis represents the percentage of subscribers that have been retained.
Subscriber retention performance over time allows you to understand key dynamics like when subscribers are likely to leave, and after how long the risk falls and stabilizes. For example, you may see that 50% of your subscriber churn occurs in the first two months. This allows you to really focus your retention efforts on the critical stages in the subscriber lifecycle, where they can have the most impact.