The Customer Accounts section allows you to:
Your customer accounts list
By clicking the Customer tab > Customer Accounts in the main navigation, level you will be brought to a list of your customers.
Customers are listed with the following information by default:
Email address
Cleeng user ID
Registration date
Last login date
Number of transactions
Last payment method
You can adjust or add to these columns with the Manage columns action.
Last login date and registration date metrics are useful while creating segments for automated marketing campaigns.
Searching for customers
In the search bar, you can search for customers with any of the following attributes:
Email address

First and last name

Country or currency

Address

City or state

ZIP/Postal code

Birthdate

External order ID (eg. Google PlayStore)

Transaction ID

User ID (Cleeng ID or external customer ID)
Viewing individual customer details
To dive into the details of a particular customer, simply click on the row with the user's info and wait for a new tab to open. You will be able to see a Customer details tab from where you can get in-depth information about the customer's account, and manage them.
There are 4 main information panels:
A summary of key customer information

Payments information

Transaction history

Email history
Customer summary
The first row presents the customer's name, where is your customer from, what language and currency they are using, and if their subscription is active. The cross icon on the right can be used to anonymize user data. This feature allows you to permanently anonymize all personal data associated with this customer.
To explore the customer's interactions and activities with your service in detail, click under 'Customer History'. This will take you to the Customer History Dashboard.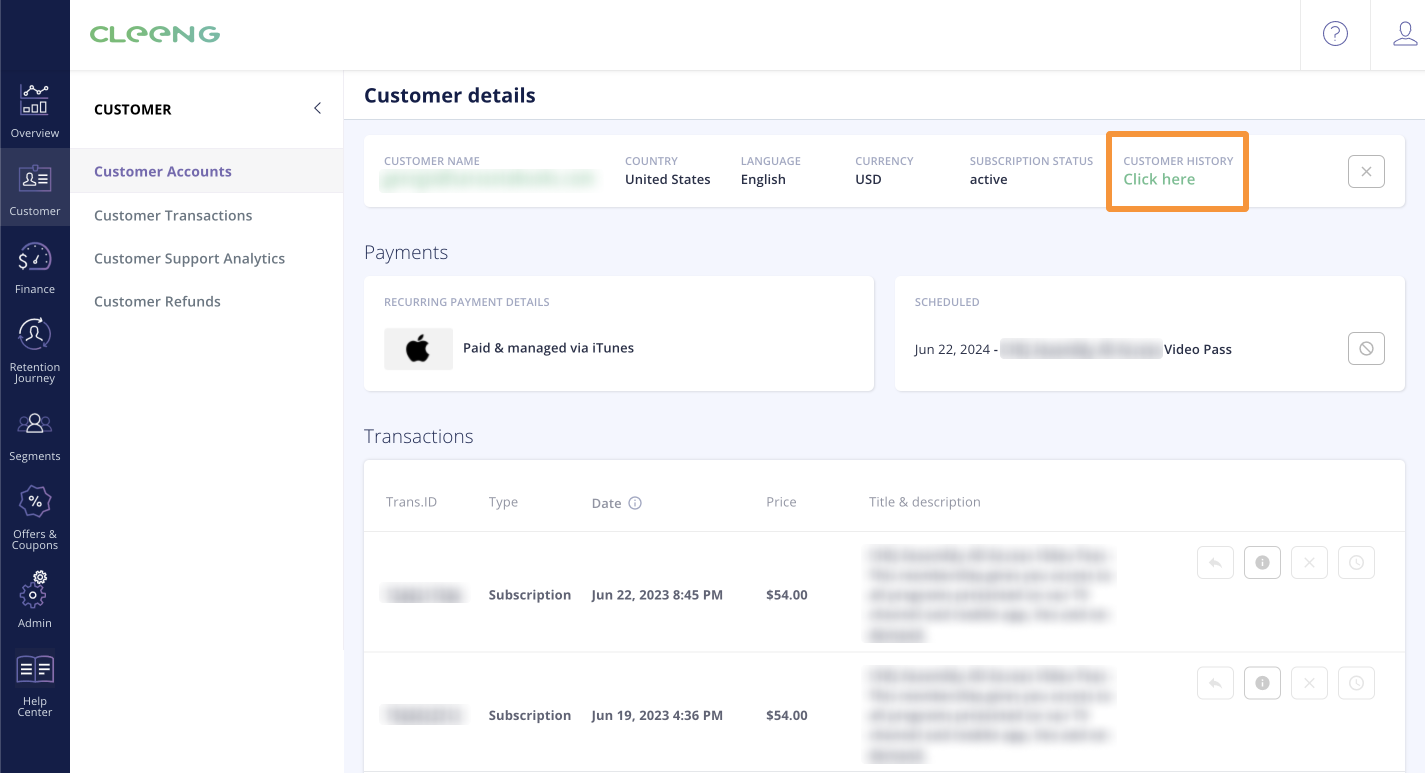 Payment information
The next section is Payments. This displays the payment details currently on file for this customer. If the customer is paying for your service via an in-app channel (like Apple or Google) then that will be indicated here.

Next, you will see when the customer's next payment is scheduled for (date and name of subscription). Note that this applies only to recurring content offers (subscriptions).
To delete payment details simply click on a cross icon placed on the right side of a tile. You can also cancel users' subscriptions manually - to unsubscribe, click a crossed circle icon on the right side of the 'Scheduled' tile.
Customer transactions
Below the payment information, you can see the transaction history. You can interact with each transaction by clicking on buttons placed on the right side. From here, it is possible to view the offer on your website, see detailed transaction details, cancel a transaction, or extend access to your platform for this customer.
Customer emails
The last section is Emails that have been sent to a particular user. You can see the complete list of emails sent by the Cleeng platform to your customers here. They include welcome emails, receipts, and payment reminders.
You can either open a preview of the email or resend a receipt to your customer.